Facebook Messenger update makes group calls easier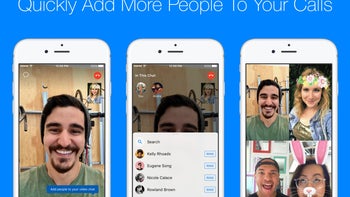 Facebook has released an update for its Messenger app that makes initiating a group call a bit easier.
Previously, making a group call was not as easy as it might sound. First, you had to video or voice call one of your friends, relatives, pets, or whatever. Then you had to hang up the call, find the other person you'd like to add by writing him/her a message and after that you could turn it all into a group convo. Imagine having to manage a 10 person video call – sounds kind of annoying and time-consuming.
This tedious this process is gone now – brought with the latest Facebook Messenger update is the option to add people into group calls way faster, without having to go through a section of menus. To add friends into the call, simply press the "+" while in a call and a list of people will pop-up, allowing you to add multiple people fast and at once. When it comes to filters and effects – they're usable in a group call as well, so don't hesitate putting on those AR sunglasses in front of your company. Also, when the group call eventually ends, all who took part will be redirected to an automatically created chat group.
Facebook even posted a video to show-off the improvement, which you can see below: