Facebook Messenger Lite update adds some nifty new features
1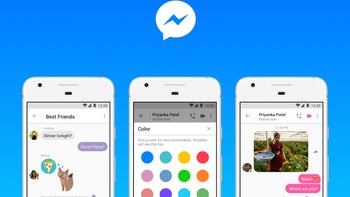 Facebook's
Messenger Lite app
has been around for about two years, at least on Android, but it only recently got an important update that brings some new cool features into the mix. Unfortunately, the update is not available for iOS devices since the app has not been launched globally yet.
However, if you own an Android device and use Messenger Lite, here are some of the new features that you'll be able to take advantage of in the coming weeks. First off, you'll now be able to receive animated GIFs, something that was not possible until now.
In order to send an animated GIF in chat, you'll have to use a third-party keyboard app (like Gboard), search for GIFs in their library, and then actually share it in a chat window. Furthermore, you'll be able to customize conversations with different people and groups by adding colors and emojis. These new customization options will be available through the info button in the top right corner of the app.
Also, you can now share a file, picture, video or audio file with friends in
Messenger Lite
by simply tapping the "+" sign and selecting the file from the popup.
Besides the
new features announced today
, Facebook shared some info on its upcoming Messenger Lite plans, which apparently includes improvements to the quality and speed of the app, as well as addressing bugs and violating content.