Facebook adds Video Chat option in Messenger Lite for Android
2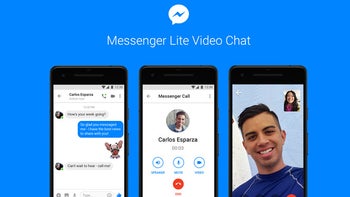 Facebook launched
a lighter version of its Messenger app
not long ago, but some of the features included in the standard version didn't make it. Well, it appears that Facebook has decided that adding one resource demanding feature like Video Chat won't do Messenger Lite users any harm.
According to Facebook, video chat is a core part of communication and so it wouldn't make sense to be removed from Messenger, even if we're talking about a slimmed down version of the app.
With the addition of video chat,
Messenger Lite
offers many core messaging capabilities, including sending text, photos, links, as well as audio calls to people with either version of the app.
In order to make use of video chats, simply start a conversation or find the person you would like to chat with in your contact list, then make sure to tap the video icon on the upper right corner of the screen.
Even with the introduction of video chat, Messenger Lite still weighs in under 10MB, making it blazing fast to install and equally fast to start up. Of course, the new video chat option is only available in
Messenger Lite for Android
.