China's face-swapping app ZAO keeps your image for promotional reasons
2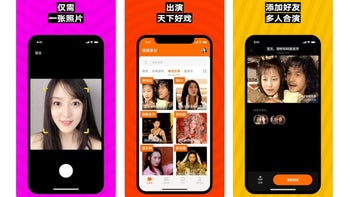 Back in July,
we told you all about FaceApp
. Using AI, the app takes a selfie or a portrait and
makes the subject appear older or younger than he or she really is
. Yeah, it's a fun app to use although the developer has the right to employ your photo, user name and real name to promote it. And when U.S. Senate minority leader Chuck Schumer noted how there could be some "dark patterns" misleading subscribers, it didn't seem to stop U.S. smartphone owners from using FaceApp. Keep in mind that it was developed by a Russian company.
Now,
according to Reuters
, an app by the name of ZAO is making the rounds in China. Instead of taking a selfie and adding or subtracting years to the subject's face, this app swaps the user's face with one belonging to a celebrity. The app was added to the Chinese version of the iOS App Store on Friday and the developers' servers almost crashed immediately because of the huge surge in data traffic. App Annie has ZAO listed as the most downloaded free app in China as of September 1st.
"If you read our privacy policy, it might ensure you that your FaceApp data is safe. Because of the specific of the AI technology, it is not possible to do some of the edits on a smartphone, they require to be sent to a server. The pictures are deleted within 48 hours. Should you have any questions, please contact us..."-FaceApp
Consumers sign up for the app using their phone number and upload photos they have taken of their own face using their phones' selfie camera. They can then select videos that star celebrities' own faces and swap the latter with their own image. While many of the celebrities on the app are well known in China, some others include Leonardo DiCaprio and Marilyn Monroe. Even the face of Big Bang Theory character Sheldon Cooper is one of the choices available to ZAO subscribers.

One ZAO subscriber by the name of Gu Shi installed the app after seeing her friends employ it to create video clips on social media site WeChat. Gu said, "I've never tried using Japanese makeup and hairstyles because it's too complicated to do all by myself. This app gave me a chance to try a totally different style from my normal life." And like FaceApp, ZAO went viral. However, its privacy policy says that users who use the app surrender all intellectual property rights to their face, allowing ZAO to use the images for marketing purposes. The developer said that it will respond to the concerns that its subscribers have. "We thoroughly understand the anxiety people have toward privacy concerns. We have received the questions you have sent us. We will correct the areas we have not considered and require some time."
After 4,000 reviews were posted about the app on the Chinese version of the App Store, ZAO had a rather poor rating of 1.9 stars out of five. It is free to download on your iPhone or iPad. The company behind ZAO is called Momo, creators of a dating app that later become a live streaming service. The firm was subsequently listed on the New York Stock Exchange. Since it doesn't have a product that is imported into the U.S., the company was unaffected by the 25% tariffs that took effect on September 1st. Another 25% in tariffs will be imposed on devices like the iPhone starting on December 15th.