Exclusive: Samsung OMNIA HD and BEAT DJ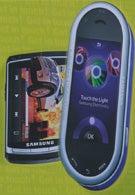 UltraTOUCH
but also the other two hot phones it has prepared – the OMNIA HD (known as the Acme i8910 until now) and the BeatDJ, we've seen as the M7600.
Unfortunately, there are no new details, but the HD in OMNIA HD seems to prove previous rumors about HD video recording and playback and the BEAT DJ is definitely a music centric phone. The show starts on Monday, but check the site regularly for the latest news straight from the horse's mouth.
Samsung OMNIA HD Preliminary Specifications
Samsung BEAT DJ Preliminary Specifications
If you have some interesting info that you'd like to share with us, feel free to
Tip Us!