Epic 4G firmware upgrade to increase 3G upload speeds and more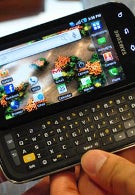 Sprint will be sending out a firmware upgrade for the Epic 4G over the next few days. The download will cost you 7-8 minutes of your life, but in exchange, it will fix 4 bugs on the device. The new version, S:D700.0.5S.DI18, will be pushed automatically along the Sprint Now Network.
One fix that will be corrected is the battery drain that has been taking place when the phone is set on Wi-Fi and is doing nothing in your pocket. Another fix now allows Amazon MP3 to download in 4G. Upload speeds for 3G will be improved and that should help the user get better load times for large e-mails. For more information on this firmware upgrade, check out the source link below.
Samsung Epic 4G Specifications
|
Review
source:
Sprint