Enable the Acessibility settings on your Android 9 phone for shortcuts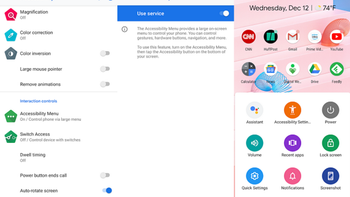 If you have an Android phone running the latest build of the operating system, Android 9 Pie, there is a way to enable some time saving buttons that just might make your life easier. Turning on this setting will allow you to snap a screenshot with the press of single button, although you can simply say, "Hey Google. Take a screenshot" to have the Google Assistant do this for you.
Other features that can be activated with the tap of a button include:
Google Assistant.
Power options.
Volume controls.
Recent apps.
Lock screen.
Quick Settings.
Notifications.
To use these buttons, simply go to
Settings
>
Accessibility
>
Accessibility Menu
and toggle it on. You will notice a icon of a man to the right of the pill shaped home button. Tap on it to see your options. If you do decide to keep this enabled, you will have to tap the "X" button while watching YouTube to remove the on-screen controls that will block you from watching the video.
The accessibility feature is designed to help those with disabilities to control the phone. Some may find this to be a complete waste of time, others might find this useful.
Thanks for the tip!

Recommended Stories