Dock for the Motorola ATRIX 4G is found online selling for $59.95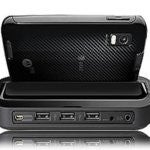 If you're set on buying the
Motorola ATRIX 4G
when it's made available, then you'll probably look at buying its dock as well since it adds yet more functionality.
However, the driving factor that will propel most people in deciding whether or not to purchase the dock is undoubtedly its pricing. And with that, we're confident that the
$59.95
price that one web site is asking for online will surely sound agreeable for most people. Not only will it act as the perfect pedestal dock for the smartphone, but it enables you to connect it a monitor and still continue to use the phone's various functions.
If the pricing found on Fommy.com is to be believed, it could mean that buying the highly anticipated smartphone and dock will come to just over $200 – which isn't shabby since that's the golden price found with most top tiered smartphones nowadays.
source:
Fommy
via
MobileCrunch