Did you catch the Angry Birds unlock code?
2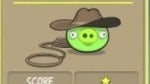 Yesterday
we told you
that Rovio, creators the popular Angry Birds game, was going to show a secret unlock code during the commercial for the upcoming movie Rio. This was also confirmed in the company's on-line
Blog
saying "Watch the Super Bowl XLV, and keep your eyes peeled during the fourth quarter: spot the Rio commercial and you might see a little something to find something special in Angry Birds!'
In case you missed it, user scarbzscope on YouTube has posted a nice walk-through to help you unlock the hidden part of the game, just be sure you update to the current version 1.5.1 first that contains the new Ham em High level. After following the steps in the video in level 13-12, you should have level 14 now visible and saying Coming Soon, and going into the Golden Egg section will show a Golden Football level.
So was this worth all the hype?
source
YouTube
(scarbzscope)