Deutsche Telekom, Carphone Warehouse, & Best Buy UK are all slated to sell the Motorola XOOM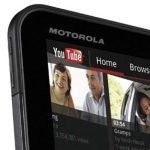 There are going to be a few places across Europe where you can expect to find the Motorola XOOM after Motorola
officially announced its partners
for the Android powered tablet's launch in Europe.
In the UK, big time retailers like
Carphone Warehouse and Best Buy UK
will begin selling the highly anticipated Honeycomb tablet some time around in
Q2
, but Motorola didn't go further to detail its pricing. Furthermore, the
Wi-Fi only version
of the XOOM will be made available through outlets like
Currys and PC World
– with the same availability date some time in Q2.
Outside of the UK, consumers can expect to find the XOOM being sold through
Deutsche Telekom
as well, which we all know operates under T-Mobile moniker, but there was no mention as to what specific markets it'll be available in Europe.
Aside from those specific partners mentioned in Motorola's press release, we're still not treated to the mention of pricing for the European market. However, it'd be difficult to find it straying from the
$800
(about €590 or 494 GBP) price point that Verizon Wireless in the US will be offering for its version of the XOOM.
source:
Motorola
via
Unwired View