Deal: Score the Moto G4 for just $120 on Amazon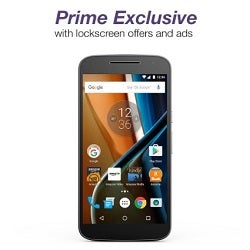 The holiday shopping season will soon be upon us, and as a result, deal-hunting is going to become more important than ever. Whether you're buying for a friend, family member, or even yourself, there's a good chance that a smartphone is somewhere on your shopping list. Although we've still got a ways to go before the major deals start coming out, Amazon is offering a pretty nice price on the Lenovo and Motorola
Moto G4
.
This deal is exclusive to Amazon Prime members, but considering the popularity of the service, there's a good chance you're already subscribed to it. And, if you are,
the Moto G4 can be yours for a mere $120
- completely unlocked. It is worth noting that the Moto G4 being offered here is the Prime Exclusive one, meaning that you'll have to put up with offers and deals that are placed on the lock screen of the phone. However, that's a very, very small price to pay for being able to snag such a capable phone at this price range. Plus, when you consider the fact that Motorola sells the phone (without ads) for $199 on their own site, it's easy to see that the savings here are quite hefty.
As a quick refresher in case you've forgotten, the Moto G4 comes equipped with a 5.5-inch display with a resolution of 1920 x 1080p full HD, Snapdragon 617 processor, 2GB of RAM, 13MP camera, 16GB of expandable storage, and a beefy 3000 mAh battery. Although those aren't the most impressive specs that you're going to find on an Android smartphone in 2016, they're more than capable for the majority of people out there. Plus, with a price of just $120, this really is a steal.
There's currently no word as to how long the deal will actually last, but if you're interested, it's always better to snag it before it's gone for good.