Deal: Save almost $300 on an unlocked Samsung Galaxy S6 edge
6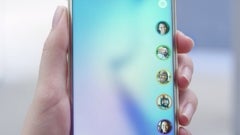 The
Samsung Galaxy S6 edge
is one of the hottest properties on the smartphone market right now. With a very eye-catching, curvaceous design, it's not just a pretty face, either.
In our own review
, it gave a good account of itself, and many of our readers have since waxed poetic of this feature-rich handset. One of the major, unavoidable downsides to the S6 edge is its price tag. At present, you're looking at an outlay of $815 on AT&T for the device, which, despite its acclaim, is still a
helluva
a lot to pony up. Even with
the recent price cuts
by Samsung, the 32-gig S6 edge will still set you back $765, but thankfully, there are other ways to score yourself a unit on the cheap.
A refurb from eBay may not, on the face of it, sound particularly exhilarating. But when you look at the potential savings -- $265 versus AT&T's pricing -- it may, for some, be worth grabbing one that's not brand-spanking-new. Indeed, the S6 edge is now a few months old, and if you're the kind to upgrade when something new comes along, then opting for a refurbished model at $549.99 would seem a shrewd bit of business.
The device is an AT&T model unlocked, so can be used on any GSM network across the globe. The White Pearl and Black Sapphire color options are both available, and there's 11 months worth of Samsung warranty to enjoy. Available in limited quantities, you'll have to move quickly if you don't want to miss out, and if you can handle a few
"very very small and minor blemishes"
, you can find more details at the source.