Deal: one of the best USB-C power banks just got a big Amazon Prime Day discount
5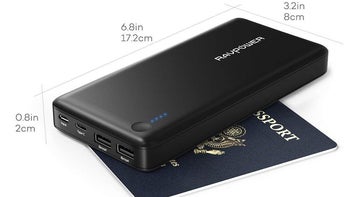 RAVPower's fresh USB-C Power Delivery external batteries have been on our radar ever since their introduction. These are few and far between and don't come cheap. The power bank offers 30W USB-C output (let that sink in), and fast 4.5 hours recharge through the extra USB-C port input, despite its huge 26800 mAh capacity.
It holds about 5 recharges for most modern Android flagships, or 10 for the
iPhone 7
/8, and can top off your iPad Air battery twice as well, or, needless to say, your Mac, as it has the same output rating as the laptop's own USB-C charger.
Our team here at PhoneArena is leaving no stone unturned over at Amazon and all major retailers' sites, looking for the best Prime Day deals.We have compiled a list of the best discounts out there in a single, neatly organized hub, to help you find the best offer for you.
Those Type-C USB-PD portable chargers are rare and expensive still, as they can be charged thrice faster than regular banks, and the output is strong as well, so the RAVPower 26800 PD Portable Charger has an $81.99 price tag that hasn't budged since its introduction, but Amazon's Primed Day deals countdown now lets you have it for $53 plus free shipping by applying promo code Q489VTDR at checkout.