Deal: LG V20 sells for $480 ($290 off) at T-Mobile, either paid in full or through monthly payments
11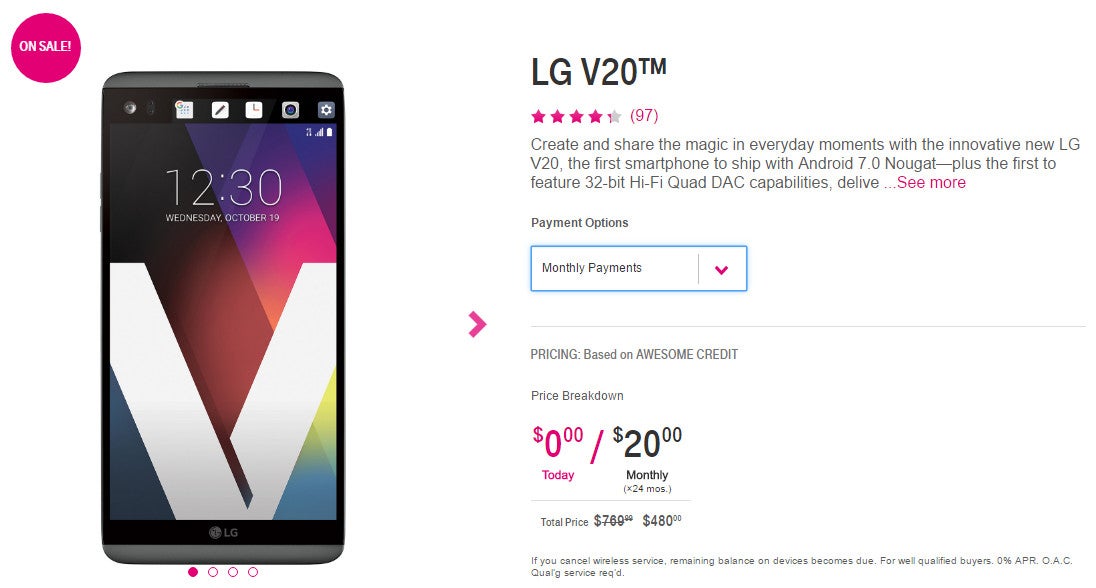 The
LG V20
doesn't seem to be as appealing as it was six months ago, and it's definitely not worth the full price, especially after the G6's launch. The more reason for U.S. carriers to try and get rid of any stocks left to make room for LG's new flagship smartphone.
T-Mobile is now running an attractive deal on the
LG V20
, as the phone has been heavily discounted and can be purchased for just $480. The V20 is usually up for grabs at the Un-carrier for $770, so this seems like a good price for those who at some point wanted to buy it.
Moreover, the deal is available for customers who either buy the LG V20 outright or get it on monthly payments ($20 per month for 24 months), so there's that.
T-Mobile doesn't say for long it will have the LG V20 on sale, so you might want to hurry if you want to benefit from the deal. It's worth noting that this is the
best deal on the LG V20
available from a U.S. carrier, but better ones might be announced in the future.
Keep in mind that if you decide to go for T-Mobile's promotional offer, you'll be getting the 64GB
LG V20
model in black color. Also, you won't have to pay anything upfront, but if you cancel wireless service before the phone is paid in full, you'll have to come up with the rest of the amount.