Deal: Huawei Watch 2 Sport and Watch 2 Classic get $80 discount at B&H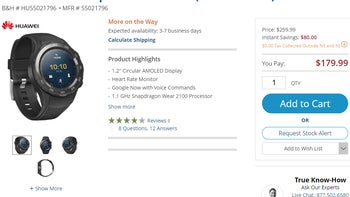 Huawei has already
introduced its new smartwatches
a few months ago, but if you're looking for a bargain, B&H Video might have what you need. The U.S. retailer and Huawei have decided to shave off $80 from the
Watch 2
's regular price in order to make the smartwatch more appealing to consumers.
Both the
Huawei Watch 2 Sport
and Classic models are on sale for the same discount but at different prices. For example, the Huawei Watch 2 Sport now costs $180, while the Watch 2 Classic is available for $220, after applying the $80 discount.
There's one caveat though: they're not available right away. According to B&H, expected availability for the Huawei Watch 2 Sport is 3-7 business days, whereas for the
Watch 2 Classic
customers will have to wait for 7-10 business days.
On the bright side, if you don't mind getting the black version of the
Huawei Watch 2 Classic
, you could have it in just 1-3 business days. In any case, B&H says that more units are on the way, so shipping time may shrink in the coming days.