Deal: BlackBerry Priv priced at just $380 on eBay
76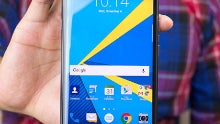 Although the price of the
BlackBerry Priv
is still over $600 through official channels, it turns out that BlackBerry's first Android-powered handset can be had for just $380 on eBay.
QualityCellz, a top-rated eBay seller is currently offering the BlackBerry Priv at $379.99.
That's a $270 discount compared to what the carriers and the manufacturer price the Priv at, a $100 price cut compared to the Amazon price for the BlackBerry Priv, and the lowest price that we've ever seen for a brand-new, unlocked version of the Priv.
$380 will get you the 32GB version of the BlackBerry Priv in black. This is the GSM model, which means that the handset will work just fine with carriers such as T-Mobile or AT&T, but it is not compatible with Verizon or Sprint. The handset also comes with a one-year factory warranty, which is a nice addition at this price.
The BlackBerry Priv was
not the commercial success
that the manufacturer was hoping for, but the handset is still one of the best high-end smartphones currently available on the market.
The Priv's strengths include a security-focused Android implementation, timely security updates, top-class performance, as well as a premium design and build quality. Obviously, the one thing that makes the BlackBerry Priv unique in the sea of Android smartphones is its slide-out physical keyboard, one that heavy typers will surely love at first sight. For a much closer look at the handset, check out our complete
BlackBerry Priv review
.
If you're tempted by this offer, you might want to hurry. The seller says that limited quantities are available at this price, and judging by eBay's on-site sale report, people are rushing to take advantage of this deal. Will you?