Deal: Apple Powerbeats3 wireless headphones on sale at Walmart for less than $100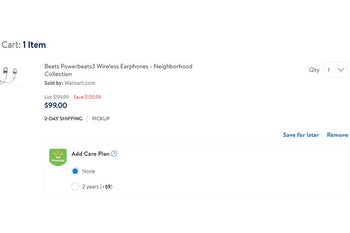 Apple's
Powerbeats3 wireless earphones
are on sale once again, but this time their price dropped under $100. Although the title says Walmart has them on sale for less than $100, it's not the only US retailer that offers a big discount on the headphones.
Dick's Sporting Goods has the
Powerbeats3 wireless headphones
on sale as well, but only for today until 10 PM. Walmart doesn't mention when the promotion ends, but if you want the headphones there's no reason to wait for too long.
The
Powerbeats3
headphones usually sell for $200, so you'll be saving more than $100 if you buy them while they're on sale. If you plan to get Walmart's deal, you won't see the price until you add them to the cart.
It's also worth mentioning that you'll be able to choose from multiple color options, but check the price before making your purchase since not all color variations are on sale.