Save $700 on Apple's MacBook Pro (15.4", 2018) with Intel Core i9 processor, Touch Bar, 32GB RAM, 2TB SSD
21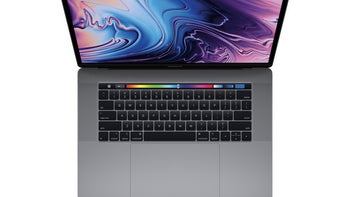 Product
Location
Item Condition
Price
Apple 15.4" MacBook Pro with Touch Bar (2018, Space Gray)
B&H Photo Video
New

$4,699

-> $3,999
Apple's new MacBook Pro laptops are excellent gadgets that are unfortunately accompanied by proportionately steep MSRPs. MacBooks are also generally known for retaining said prices well after release, so seeing a discount on one is a relatively rare sighting. If you have the cash and intention to invest in the 15.4-inch MacBook Pro from 2018, you might find this B&H deal suitable for you.
The MacBook Pro on sale is the entry-level 15.4-inch model. This setup costs $2,700 if you choose to purchase it from Apple's official store, and while B&H's asking price of $2,400 is still considerable, the $700 in savings are not something to neglect either.
This Apple laptop features a 15.4" Retina display with a 2880 x 1800 resolution, the signature Touch Bar that adds a row of multitouch controls to the top of the keyboard, the top-end Intel Core i9 6‑core processor (2.9GHz can be boosted up to 4.8GHz), 32GB of DDR4 RAM, the Radeon Pro 560X GPU with 4GB of GDDR5 memory, and 2TB of SSD storage.
If this deal interests you, feel free to follow the above link to B&H. The listing states that supplies are limited at this price, so it might be a good idea to act swiftly before the sale ends.