Christmas comes early at Microsoft: employees get WP8 smartphones, Surface tablets, PCs as gifts
31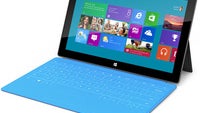 Working for Microsoft – one of the most renowned tech giants in the world, is a privilege, and we are not saying this
in a Foxconn kind of way
. The company just sent out a big "Thank you!" to its 90,000 full-time employees by gifting them with not one, not two, but three Windows-powered gadgets. These include a smartphone running Windows Phone 8, a Microsoft Surface tablet with Windows RT, and a brand new Windows 8 PC, either a desktop, laptop, ultrabook, whatever they pick. How's that for an early Christmas gift?
The announcement was made by CEO Steve Ballmer himself during the annual Microsoft employee meeting held in Seattle. To no surprise, some who attended were quick to let the world know about the generous gifts:
"Best. Company meeting. Ever."
was what one of them Tweeted. Others praised Microsoft's CEO by saying that
"Steve Ballmer is the new Oprah!"
.
This isn't the first time Microsoft is treating its employees in such a fashion, but this has to be the most generous the company has been in the recent years. Those who worked for Microsoft back when WP7 was being introduced got a virtually free Windows Phone handset. At the same time, the free gadgetry those fortunate ones will be getting should ensure that none of them would be
tempted to join the dark side
.