Choosing a Windows Mobile phone on AT&T
3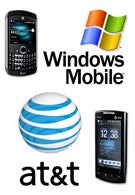 If you are a business professional who is required or just wants to get a Windows Mobile phone on AT&T, you probably have a hard time choosing the right one. Right now, AT&T is offering quite a few handsets based on Microsoft's venerable operating system and the list includes both powerful high-end smartphones and more mainstream devices, designed to deliver a lot of features at lower prices. If you are not sure about exactly what you need, then this article will aid you in your quest of finding just the right Windows Mobile phone for you.
Going for the high-end…
In case you want the best and nothing less, you have three options on AT&T right now – the HTC Tilt 2, the LG eXpo and the HP iPAQ Glisten. All of them are very business-like, sporting a full QWERTY keyboard, which always comes in handy if your job requires you to respond to hundreds of e-mails each day, or work with Office documents. If you demand speed from your device, then the
eXpo
will be more suitable for you with its Snapdragon chipset. It also comes with an optional pico projector and fingerprint sensor. The
Tilt 2
's advantage lies in its larger 3.6-inch touch-sensitive screen.
Now, although the
HP iPAQ Glisten
comes with the hefty price tag of $179.99, we wouldn't really compare it to the Tilt 2 and eXpo, because it is shorter on features and lacks a personalized interface to enhance the user experience. The HTC Tilt 2 is proud to deliver the respectable TouchFLO UI, while the LG eXpo has the S-Class personalization on top. Still, the iPAQ may appeal to those who would prefer the classic candybar form-factor.
HTC Tilt 2 Specifications
|
Review
LG eXpo Specifications
|
Review
HP iPAQ Glisten Specifications
|
Review
Affordable offerings…
It is perfectly normal if you somehow don't feel like spending a lot of cash on a new smartphone. Fortunately, there are some more affordable handsets that are capable enough to get the job done just fine. If a touchscreen is a definite must-have for you, then the
HTC Pure
will best suit your taste. It is compact, has a
3.2
-inch display and offers the TouchFLO UI to make Windows Mobile more finger-friendly and pleasant to use.
Typing text is always easier with a hardware keyboard though, and the
Samsung Jack
has that one useful feature. It is a very well-performing smartphone with stylish appearance and WM Standard operating system (meaning no touch action). Another advantage it has is its price – AT&T is giving it for free now with a two-year service agreement.
HTC Pure Specifications
|
Review
Samsung Jack Specifications
|
Review
These are AT&T's interesting Windows Mobile phones at the moment and as you see, there's a little something for everyone on the lookout for a business device. If you are a tech addict who cannot sleep at night, because of that new smartphone that's just been released, our recommendations are to go for the HTC Tilt 2 or LG eXpo, depending on your specific needs. But if hi-tech is not exactly your cup of tea and you just want to get a device that will do the job, then both the HTC Pure and the Samsung Jack are wonderful solutions, each with its respective advantages.
For a full feature comparison of these phones, see
here
.