HP iPAQ Glisten Review
2

HP iPAQ Glisten Release Date: December 10, 2009

Introduction and Design:
Once a big time player in the PDA world, HP's iPAQ line has deep stemming roots connected with Microsoft's Windows Mobile platform. AT&T customers are now treated once again to a new smartphone from the dominant PC manufacturer in the form of the
HP iPAQ Glisten
. It's been a long journey for HP, but it's going to require some impressive features to live up to other Windows phones that are already garnering praise with good looks and functionality.
The package contains:
HP iPAQ Glisten
Charger
USB Cable
Quick Start Guide
Quickly gazing at the
HP iPAQ Glisten
, we were delightfully greeted to an aesthetically pleasing handset with its choice to quality materials and contrasting colors. The mostly silver and black handset does glisten with a design that's compelling with its soft touch feeling casing and curvaceous construction. Sure it may have an overall footprint similar to past portrait QWERTY handsets, but it's not too overbearing or bulky (0.53" thick) – easily making it hide inconspicuously in your pocket. Although it's somewhat heavier (4.66 oz), we feel that it's partly welcomed thanks to a solid overall construction that makes it feel durable.
The mostly silver and black handset does glisten with a design that'scompelling with its soft touch feeling casing and curvaceousconstruction.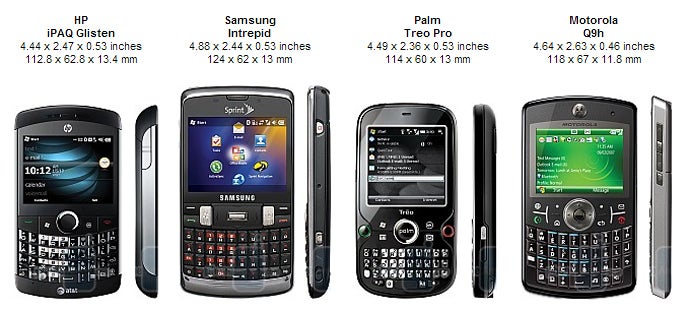 You can compare the HP iPAQ Glisten with many other phones using our
Size Visualization Tool.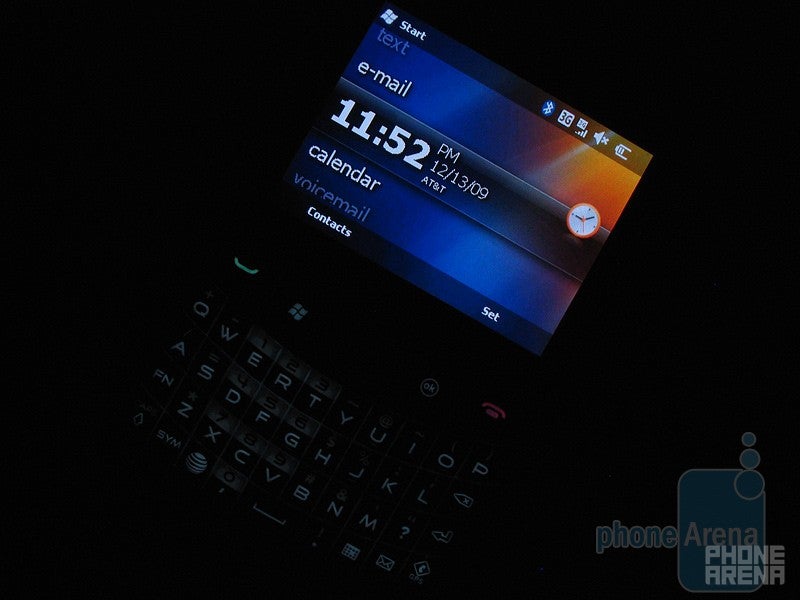 AMOLED displays are still very rare outside of Samsung's camp, but the HP iPAQ Glisten is fortunate to offer one that's responsive. We've applauded many handsets in the past that utilized AMOLED displays, but the
2.5" QVGA display
on the Glisten isn't really as good. There's a noticeable bluish color to the screen – it's especially noticeable when white color is displayed.. It doesn't seem as bright when compared to other AMOLED displays we've seen either. In addition, the 320 x 240 resolution with 65k colors isn't sharp enough to prevent your eyes from squinting from garbled looking text.
The layout of the
hardware buttons
on the Glisten is your usual fanfare – they're all well sized for even the largest of fingers to press. We like the fact it houses both a microUSB and 3.5mm port for the basic connectivity essentials. There's a dedicated button on the top edge that'll activate Wi-Fi – not sure why HP decided to go with one, but we found ourselves rarely relying on it. Finally, there's an area on the back of the handset where the
stylus
rests in place.
The best feature we adored most about the Glisten is its usable and evenly sized
QWERTY keyboard
. It rivals some of the better ones out there like the
Motorola Q9H
and
BlackBerry Bold 9000
. There's a solid tactile feel whenever you press down on one of the curved buttons. We would've liked to see a brighter backlighting, but feel it's ample enough to make out. Speedy texters will quickly realize how well the QWERTY works for all their messaging needs – there will be no pauses or mispresses on the Glisten.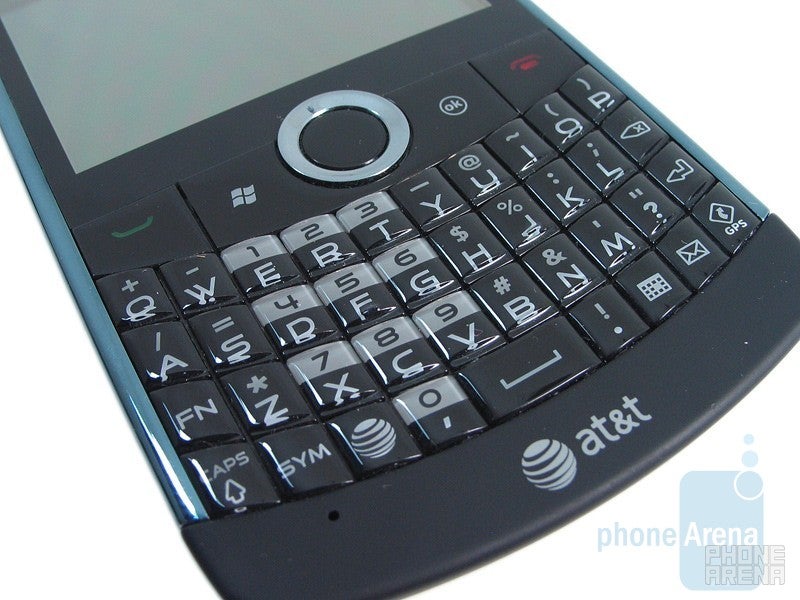 The best feature we adored most about the HP iPAQ Glisten is its usable and evenly sized QWERTY keyboard
HP iPAQ Glisten 360 Degrees View: Recommended Stories