Chinese ZTE plans to double smartphone shipments to 40 million in 2012
2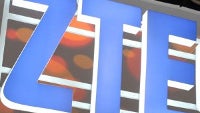 Chinese ZTE might not be a household name in technology, but it's been growing hugely lately, becoming the world's fifth largest phone maker and its goal is to more than double its smartphone and tablet shipments this year. With 15 million smartphones shipped in 2011, ZTE's ambitious target for 2012 has grown to 40 million in 2012, and while its tablet sales are still weak, ZTE is planning on shipping 1 million slates this year, again more than double the 2011 shipments.
Interestingly, more than a half of all those 40 million smartphones, will be destined to its home market of China.
"Our smartphones are selling quite well in certain mature markets such as Japan, the US, Europe, Australia and in certain emerging countries,"
Zhang Renjun, Senior Vice President of ZTE said.
What's a bit surprising is that ZTE seems to be doing better than analysts expected. Estimates agreed on ZTE shipping around 30 million smartphones in 2012, but the company has upped that target to 40 million.
ZTE's best known models include the ZTE Blade, Skate, Era and the Windows Phone-based Tania, and in tablets it recently debuted in the States with the Sprint ZTE Optik.
source:
Reuters
Recommended Stories