Chevrolet rolling-out MyLink smartphone integration for some 2012 models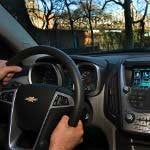 Chevrolet has just announced its newMyLink smartphone integration system, which will allow you tocontrol your Apple/BlackBerry/Android device using the built-incontrols in your car. Chevy's 2012 Volt and Equinox will bethe front-runners of the new feature unveiled on the Engadget Show.
Currently, app support is limited tothe Pandora and Stitcher apps, but – of course – more are comingdown the road. The app will support voice recognition and you will beable to control commands through buttons on the steering wheel, whichis a pretty convenient way to stay focused on the road. The system isstill in its development phase, but it seemed to work fairly wellwith Apple's iPhone. And so far there are no details when it comes topricing, but we expect to hear more about MyLink in the comingmonths. Finally, we're glad to see Chevy join others like GM's Ford(with its AppLink system) and Toyota (with its Entune system) insmartphone integration in cars.
source: Engadget