Chen admits he has a "50:50 chance" of turning BlackBerry around
99+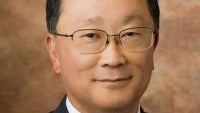 CEO John Chen opened up about hismission at BlackBerry in an interview for the Financial Times. Hebelieves he has a "50:50" chance to turn around thestruggling company. The CEO aims to make BlackBerry's cash-flowpositive by the end of its current fiscal year and return to profitbefore the end of March 2016. He also hopes that BlackBerry will, eventually, become a dominant market player again.
Mr. Chen believes the company has toact now, and refocus on its "heritage and roots - deliveringenterprise-grade, end-to-end mobile solutions." He brieflycompared his task at BlackBerry with his successful turnaround ofSybase, which went from stagnation to being acquired by Germany's SAPin 13 years. That's quite the chunk of time, but under his helm, thecompany did manage to achieve 55 consecutive quarters ofprofitability and a market capitalization of $5.8 billion, up from alow of $362 million. Obviously, the situation is more difficult withBlackBerry. Chen said "it's a bit more challenging to engineerchange" in the Canadian company, without elaborating further.
John Chen stated that "it'simportant to stay positive" and commented that BlackBerry'senterprise customers tend to stay longer, although they are harder towin. Recently Chen scoffed at enterprise competitor Good Technologyand US wireless carrier T-Mobile for their BlackBerry-underminingpromotions, which gave customers who want to ditch the company'sservices and phones an advantage.
Although BlackBerry fans are asoutspoken as the company's CEO, T-Mobile's 94% trade-in rate ofBlackBerry phones goes to show that the company's former managementcouldn't deliver an attractive portfolio of consumer products.That's, once again, something Chen's BlackBerry is starting to lookafter. It has already begun offering phones that directly addresscustomer feedback and market opportunities. The BB Z3 is an offering for the emerging markets, which BlackBerry used to lack, while the Q20 brings back the trackpadand buttons "toolbelt" from older QWERTY-handsets, which BB fans missed. More powerful and compelling phones, including onewith a 64-bit octa-core CPU, are planned for the non-distant futureas well.
source: FinancialTimes