BlackBerry Z3 and BlackBerry Q20 introduced in Barcelona along with BES 12
24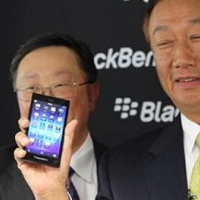 BlackBerry has introduced the BlackBerry Z3 at Barcelona on Tuesday. This is the first model to have been produced under the arrangement agreed to by both BlackBerry and Foxconn under the terms of a five year deal signed by both sides. Under the deal, Foxconn will design, produce and warehouse these models that are aimed at emerging markets. BlackBerry will provide the software and profits will be split.
The BlackBerry Z3, which was known by its code name of BlackBerry Jakarta, is an all-touch model that will be released in Indonesia in April priced at under $200. This makes the phone the cheapest BlackBerry 10 model yet. While the unit comes with only 3G connectivity, BlackBerry CEO John Chen quipped that BlackBerry has "
a plan to take that phone out globally with LTE sometime in the future before I die
." The device offers a 5 inch screen with 540 x 960 resolution, and comes with BlackBerry 10.
2.1
pre-installed. A 5.5MP camera graces the back of the phone, while a 1.1MP snapper is on front.
Also introduced Tuesday is the BlackBerry Q20 which will feature a physical QWERTY keyboard. This model will be available before the end of the year. So far, no word on pricing or availability. The QWERTY is supposed to bring back the forgotten track pad, and function keys. It will also feature the largest screen on a QWERTY enabled BlackBerry phone at 3.5 inches, and will be equipped with a larger battery. This model will be out in the second half of this year and BlackBerry will release more details at the launch.
Also, BlackBerry has introduced its latest Mobile Device Management system, BES 12. Unlike previous versions of BES which required different systems for
legacy
BlackBerry devices, BlackBerry 10 units and iOS/Android/Windows Phone models, BES 12 will be able to manage all devices with just the one system.