94% of T-Mobile customers trading in a BlackBerry during promotion, switched to another platform
22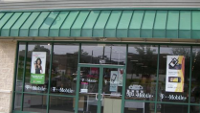 A leaked internal memo from T-Mobile reveals that during the trade-in promotion that the carrier is running (which ends at midnight Wednesday), 94% of those who brought in a BlackBerry model to trade in, switched to a phone running a different platform. The information, which was published in a memo titled "Field Sales Update," also reiterated the information tweeted by T-Mobile CMO Mike Sievert on Monday. The marketing executive said that during the two-weeks of the promotion,
the number of BlackBerry trade-ins soared 15 fold
.
The promotion, which T-Mobile says in the memo "
was created to provide additional value for our loyal BlackBerry customers while providing customer choice
,"
offers $200 in return for any working BlackBerry model
. The funds can be used to purchase a new smartphone, and if that smartphone is another BlackBerry, customers get another $50 for the trade.
Instead of getting BlackBerry CEO John Chen worked up enough to try to take on T-Mobile CEO John Legere over social media, these numbers should force Chen to sit back and smell the coffee, something that his predecessor never did. We think that Chen already knows what BlackBerry needs to do to get back into the game and that is produce a super spec'd model that impresses the benchmark junkies. To that end,
BlackBerry is supposedly working on a 64 bit octa-core model
that is being designed in-house.
The fact that 94% of those trading in a BlackBerry to T-Mobile switched platforms is an unmistakable sign that the Canadian manufacture did not impress with its current BlackBerry 10 lineup. But the good news is that the current administration at the company knows this, and unlike previous leadership, is not in denial.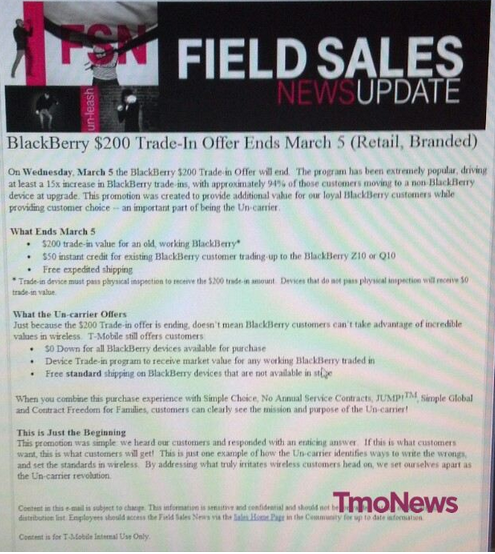 Leaked memo reveals that 94% of those trading in a BlackBerry during T-Mobile's promo switched platforms
source:
TmoNews