Check your credit score on the go with the new Equifax app for the Android Market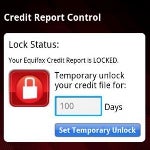 The Equifax app for the Android Market is now available and joins with the version already being used by iOS owners. The credit ratings agency offers two separate services. One,
Equifax Places
, is free and the other,
Equifax on the Go
, is a "freemium" service for subscribers to the regular Equifax report or its identity monitoring service.
While mobile, you can access what the company is calling
Equifax Places
. This free service allows you to use your GPS together with the Equifax app to find out how prevalent identity fraud is in your area broken down by age, gender, income and credit score. You can also read how your credit rating measures up with others in your area and see how much debt the agency shows you owe and which payments you have made late.
If you have a subscription to an Equifax credit or identity monitoring product,
Equifax on the Go
allows you to read your credit report while on the fly, see alerts when a change is made on your Equifax, Experian or TransUnion report and with your credit score. This service allows you to lock and unlock your Equifax report while mobile. You will also be told when an account has a balance change and when a dormant account suddenly becomes active.
source:
Equifax
via
AndroidGuys