Certain Android 2.2 devices about to score Hulu + app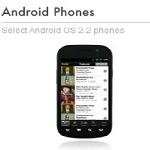 With Hulu blocking the use of its service to Android users running Adobe Flash Player 10.1, it looked like the service might never be available for Google's open source OS. But that appears likely to change. On the Hulu website is the image of the Nexus S with a comment that hints that the Hulu + app will be available soon to certain Android 2.2 models.
Late last year, Hulu + was made available for iOS devices at a cost of $7.99 per month after a one week free trial. There is no word on whether the pricing will be the same for Android devices, nor is there any idea when the app will be up and running. The fact that the company's own web site says that the app will be coming soon is about as close to an inside source as you can get. And since Android users have already waited so long to use the service, waiting just a little bit longer probably won't do any harm.
source:
Engagdet
via
AndroidCommunity