Car Home app for Android is updated to allow more personalization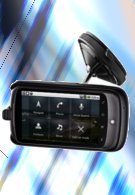 Android 2.2 handset holders who manage to utilize the Car Home app are in for a slight treat now that Google updated it to enable more personalization so that it can fit to the specific needs of each individual.
Google announced today that the latest version of the app will enable users to customize the finger friendly sized shortcuts so that you'll have one-touch access to the most pertinent functions with the application. Basically you can delete or add specific shortcuts by simply clicking the icons marked as "Add shortcut." But if you want to remove something or replace it, you simply execute a long press to move them around to your liking or delete it completely.
In addition, you can change the background image within the app to better suit your specific taste by going into the "Settings" of the app. If you happen to be holding an Android 2.2 device, you can simply grab the app in the Android Market by searching for "Car Home."
source:
Google