Candy Crush Saga launches 2000th level, accessible to all players above level 10
6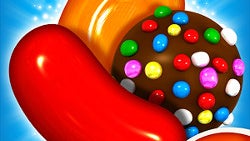 Developer King has just announced it's celebrating the release of the 2000th level for its Candy Crush Saga smash hit. The company also confirmed its game achieved an impressive milestone: one trillion gameplay sessions on all platforms.
This week's update brings the 2000th Candy Crush Saga level, but players won't have to finish level 1999 in order to play the newly launched one. King confirmed that level 2000 is accessible to all players above level 10 as an in-game live event.
It's also worth noting that the in-game live event will only be available on Android, iOS and Windows devices for seven days beginning September 28 during which time players will get a sneak peek into the future of the game.
If you're wondering what King has prepared for you in this anniversary level, you'll be pleased to know that we've got all the information you need. In the 2000th level, players will met two Candy Crush characters going by the names of Tiffi and Yeti, as they travel to the Bubblegum Bazaar to meet … a fortune teller.
Candy Crush Saga players will be challenged to collect the usual sweets and enjoy Color Bombs which spell out "2K" on the game board. Keep in mind that if you manage to complete the level you will be rewarded with two Color Bombs and one of each booster.
Along with the 2000th level announcement, King also shared some interesting information about Candy Crush Saga. You can check out below these interesting milestones:
- We've reached 1,000,000,000,000 (trillion) gameplays since it launched on Facebook in April 2012, which is equal to everyone in the world playing approximately 140 times;
- Sunday is the most popular day to play Candy Crush Saga;
- The daily distance swiped by our players on mobile is nearly 140,000 times the height of the tallest building in the world (830m), the Burj Khalifa;
- Each year, players swipe 41,197,500km playing Candy Crush Saga on their mobiles – that's to the moon and back 54 times!
- On average 18 billion game rounds of Candy Crush Saga are being played every month Candy Crush Saga is being played on all seven continents, even Antarctica!
- Since launch, 307.1 trillion candies have been swiped and 1.4 trillion Colour Bombs have been used in Candy Crush Saga.