Can you match these quotes to the correct wireless company executive?
15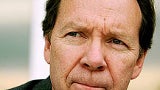 We have to admit it, we wholeheartedly enjoy watching CEOs of big or small companies from the wireless business talk. Not only because of the excitement due to knowing that a new device is going to be announced any minute, but because, well, let's just say that it's the best way for a company to communicate with the world.
Sharing our passion for CEO speeches, FierceWireless has created an interesting puzzle. It has come up with 10 quotes from 2012 that have to be matched to the correct wireless company executive.
Here are the quotes
:
1. "I think that the dark horse here might be Samsung because Samsung after the latest verdict out in California they're liable to just--they've got the capability to go out on their own and do their own operating system."

2. "We are a computing company, we have to take advantage of that form factor."

3. "We may end up having to sell the spectrum. We're not suicidal."

4. "We have to be able to stand up and say this is fundamentally better and different."

5. "...We fell short on this commitment. We are extremely sorry for the frustration this has caused our customers and we are doing everything we can..."

6. "I think you'd be stunned if we weren't getting those phone calls. We are getting those phone calls. The content guys are asking for it."

7. "This company is not ignoring the world out there, nor is it in a death spiral."

8. "Every single customer matters. That is most important thing we have to rekindle. And we are on our way."

9. "We always have been and always will be open to further consolidation, as long as it isn't AT&T or Verizon Wireless."

10. "So as you come through an upgrade cycle and you upgrade in the future, you will have to go onto the data share plan. And moving away from, if you will, the unlimited world and moving everybody into a tiered structure data share-type plan.
And now,
here are the executives
:
A. Sprint Nextel CEO
Dan Hesse
Sprint Nextel CEO Dan Hesse
B. Verizon Communications CEO
Lowell McAdam
Verizon Communications CEO Lowell McAdam
C. Apple CEO Tim Cook Apple CEO
Tim Cook
D. AT&T CEO Randall Stephenson AT&T CEO
Randall Stephenson
E. Dish Network Chairman Charlie Ergen Dish Network Chairman
Charlie Ergen
F. Verizon Communications CFO Fran Shammo Verizon Communications CFO
Fran Shammo
G. Nokia CEO Stephen Elop Nokia CEO
Stephen Elop
H. T-Mobile USA COO Jim Alling T-Mobile USA COO
Jim Alling
I. Hewlett-Packard CEO Meg Whitman Hewlett-Packard CEO
Meg Whitman
J. Research In Motion CEO Thorsten Heins Research In Motion CEO
Thorsten Heins
Can you guess who said what? C'mon, let's test your knowledge about the wireless business! However, if you're having trouble with some of the quotes, do not hesitate to check the answers over at the source link below!
source:
FierceWireless
(answers)