Blurry picture of accessories for Motorola DROID Bionic taken during Verizon's earnings call
42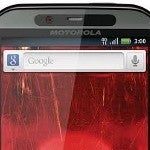 With all of the leaks about the Motorola DROID Bionic that are beginning to be made public, soon Motorola and Verizon are going to
need a plumber
. The latest story is about a blurry picture of a slide that was shown during Verizon's recent earnings call. The photo shows the smartphone of the hour with pictures of three accessories for the DROID Bionic.
Starting from the top, we see the HD Webtop dock with IR remote. There is the Laptop dock, and the Bluetooth connected full sized keyboard. As for those who look for a shooter on the Grassy Knoll in every situation, the picture of the handset itself seems a bit odd with the phone shown in portrait position while the screen seems to show a landscape display. But considering that no one has an axe to grind by trying to slip information by us that we already expected,
let's just agree
that the Motorola DROID Bionic will indeed have a Webtop accessory, a laptop dock and a wireless full sized keyboard.
source:
AndroidCentral