BlueSLR turns your iOS device into a camera remote
1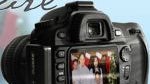 Here's a great gift idea for the shutterbug in your life: XEquals has released the blueSLR accessory for your digital SLR camera. It attaches to the camera, and then pairs with your iOS device. You can then use the iOS device to
remotely control the camera
from up to 300 feet away, and connect your camera to the web.
For those that love to share photos with their Flicker or Facebook accounts, blueSLR enables you to upload them immediately. It will also add geo-tagging, so you can know exactly where you took the photos. The geo-tags are fully compatible with iPhoto, Flickr, and Picasa. From the blueSLR app, you can adjust focus, shutter speed, and a timer, as well as GPS preferences and frame rate.
The blueSLR is great for the casual shutterbug, but it has a number of professional uses as well. BlueSLR allows you to upload data which will prove your ownership of the photo, protecting your photos from misuse. XEquals suggests the device for nature photographers, who might want to remain hidden. They also single out crime scene investigators, who would appreciate the precise geo-tags on each photo, making for easier reconstruction of the scene.
BlueSLR is available for US$149 on all iOS devices, except for the first generation iPhone and iPod Touch. They are in development on Android and BlackBerry versions. Regarding camera capability, blueSLR is available for Nikon digital SLRs, and Canon devices are in the works.
source:
blueSLR
via
Electronista