BlackBerry Z3 to be launched next week in Indonesia?
16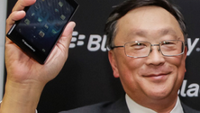 The first BlackBerry phone designed by contract manufacturer Foxconn, might be launched next week. The
BlackBerry Z3
is not only designed by Foxconn, it is also manufactured and warehoused by the company as well. All BlackBerry provides is the software and the marketing.
Both companies signed a five-year pact
for Foxconn to churn out these entry-level phones for the emerging markets. The Z3, for example, will launch in Indonesia before moving on.
According to a interview with BlackBerry CEO John Chen that was published over the weekend, Chen is flying to Indonesia next week for the launch of the Z3. The phone offers a 5 inch screen like the
BlackBerry Z30
, but with a lower resolution screen of 540 x 960. The device is powered by a dual-core 1.2GHz processor with 1.5GB of RAM and 8GB of native storage. Priced at under $200, BlackBerry hopes to take advantage of its still popular name in many emerging markets, to take share away from other low-end models like the
Nokia Lumia 520
.
Chen turned around Sybase, a company that was bleeding red ink, and helped the company achieve 55 consecutive profitable quarters until it was sold to SAP for $5.8 billion. Is selling BlackBerry part of Chen's end game? He says that Marvell was seriously interested in buying the company's wireless technology group last December, but that deal fell through.
The executive sees a future for BlackBerry where the Canadian company is focused on software, services and messaging. Chen has been focusing on BBM ever since
WhatsApp received a $19 billion bid from Facebook
. By allowing the app to be used by iOS, Android and
soon Windows Phone users
, BlackBerry is adding eyeballs to BBM. The more eyeballs attracted to BBM, the higher the value of the messaging app. WhatsApp was sold at a price of $42 for each member
Chen says that he is trying to fix everything at the same time. "
There are so many things that need to be fixed, kind of in parallel, otherwise it takes too long to fix everything sequentially
," he said.
source:
The Record
via
BerryReview