BlackBerry Tour 2 9650 also found in Sprint's system
This article contains unofficial information.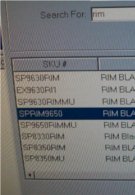 It wouldn't have been nice if Verizon were to be the only one getting the BlackBerry Tour 2 96650 based on leaked inventory screenshots. Following the same footsteps, Sprint is likely to be gearing up for the Tour's replacement in the near future – the image captured clearly shows the Tour 2 9650 on Sprint's system as well. It's a no brainer to see the BlackBerry Tour 2 9650 make its way to both carriers after seeing and hearing from customers about its trackball issues. Aside from the identical model numbers, there will probably be nothing different between these two devices – just that they're branded according to their specific carrier. In any case, it doesn't seem too long now before we stop hearing any problems with trackballs on BlackBerry handsets. So can we say so long to the trackball now?
RIM BlackBerry Tour 2 9650 Preliminary Specifications
source:
BlackBerry Leaks
via
BlackBerry Cool