BlackBerry Priv certified by Bluetooth SIG, new photos surface
99+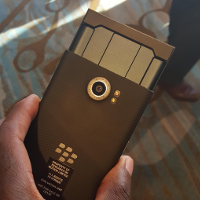 Yesterday, we told you that some
accessories for the BlackBerry Priv had been listed on online B2B wholesale sites
. We mused that this indicated that things were progressing in time for the rumored November release of the phone. Now, it appears that the Android powered slider has been certified by the Bluetooth SIG. That is another step indicating that a launch of the eagerly awaited device should take place in the not too distant future.
In addition, a new series of photographs of the Priv were discovered on Reddit. They were taken by a person who had attended a CISO conference and had run into an attendee from BlackBerry, who happened to have an evaluation model of the Priv on hand. After being allowed to check it out, he reports that the handset is snappy and the "
keyboard is nice
." He noted that it was thinner than his
Samsung Galaxy Note5
. It has full access to the Play Store, and he stated that there were some Android apps installed. He also said that the screen has a high
pixel
density (rumored to be around 544ppi) and is curved.
The version of the Priv that this BlackBerry employee had, is an older model. We can tell that by the wording on the ring around the camera, which reads "
18 MP OIS, Fast Focus
." Newer models are branded with the Schneider-Kreuznach name.
"At a conference I was at today, one of BlackBerry's executives had a 'Priv' which he let me play with for a bit. I must admit, it's a VERY nice device. It was actually thinner than my Note 5! It also seemed snappy and smooth and the keyboard was also very nice. It had full access to the Play store as you would expect and he had a few apps loaded. The screen was very nice with a high PPI and it seemed to curvey around the edges. I have to say that I'm definitely interested in Blackberry again!-Reddit user imsorandom
Yesterday, at the Code/Mobile conference held on the West Coast, BlackBerry CEO John Chen confirmed that the BlackBerry Priv will be a high end phone. The executive discussed the Priv's pricing by saying, "
High-end price, yeah. We'll make the phone financially affordable to get, whether that's by installments or something else
." Chen also again hinted that the days of offering BB10 consumer devices are behind it. He said that there are two updates of the OS coming for governments and businesses. And when asked if new BB10 handsets were being planned, he responded by saying that it would depend on demand from the enterprise.
source:
Reddit
,
GforGames
, Crackberry (
1
), (
2
)