New BlackBerry KEY2 LE color variants now available (at questionable prices)
20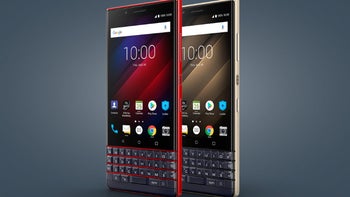 Back in October, when the
BlackBerry KEY2 LE
was
officially released
in the US, customers were able to buy the phone in just one color variant: Slate Grey. As of today, the KEY2 LE comes in two more colors, pictured above: Atomic (a combination of red with dark blue) and Champagne (a combination of champagne gold with the same dark blue).
For now, the two new BlackBerry KEY2 LE color variants are in stock only
at Best Buy here
. Interestingly - not in a good way - both the Atomic and Champagne KEY2 LE cost $50 more than the Slate Grey model, being priced at $499.99 unlocked. Colors aside, the three models aren't different, offering the very same specs and compatibility with AT&T, T-Mobile, Verizon, Cricket Wireless, and MetroPCS. In other words, if you want to get the Atomic or Champagne versions, you're paying extra just for their changed exterior.
The KEY2 LE looks a lot like the original
BlackBerry KEY2
(released in the summer and currently costing $649), sporting a similar hardware QWERTY keyboard that some users still appreciate - even now, in the era of all-screen phones. But the BlackBerry KEY2 LE isn't as powerful as the regular model, as it features a Snapdragon 636 processor (instead of Snapdragon 660), 4 GB of RAM (instead of 6 GB), and a 3,000 mAh battery (instead of 3,500 mAh). You can find out more about this relatively new Android smartphone from our
BlackBerry KEY2 LE preview
and our
BlackBerry KEY2 LE vs. KEY2 article
.
Recommended Stories