BlackBerry Key2 LE: hands-on preview
The new BlackBerry Key2 LE is the lite (and plastic) version of the Key2. It comes with a full QWERTY keyboard, a focus on privacy and is available in non-boring colors too.
There is a new BlackBerry in town and it's one of the most affordable ones that the company has made: welcome the new BlackBerry Key2 LE.
The Key2 LE looks and feels a lot like the serious, business-oriented Key2, both sharing a 4.5-inch screen with the signature BlackBerry physical QWERTY keyboard below the display, but the LE is just a bit lighter and... a bit more fun. It comes in three different colors: champagne (fancy word for gold), atomic and slate (a blue-blackish, work-safe version), with the atomic one being probably what catches the eye the most with its strong red accents on the side and around the keyboard.
Of course, you can't speak about this new Key2 LE without first comparing it to the flagship Key2, so let's start right away with...
Key2 vs Key2 LE: the differences
Specs
BlackBerry Key2 LE
BlackBerry Key2
Platform
Android 8.1 Oreo, will be updated to Android 9 Pie
Android 8.1 Oreo
Screen
4.5-inch LCD
1080 x 1620 pixels
4.5-inch LCD
1080 x 1620 pixels
Chip
Snapdragon 636
Snapdragon 660
RAM
4GB
6GB
Storage
32GB / 64GB
+ microSD card support
64GB / 128GB
+ microSD card support
Cameras
13MP + 5MP (depth info, portrait mode)
12MP + 12MP (tele camera, portrait mode), 4K video
Battery
3,000 mAh
3,500 mAh
Extras
Headphone jack
BlackBerry Security & Privacy features
Convenience Key
Fingerprint in space bar key
Capacitive keyboard with gestures
Headphone jack
BlackBerry Security & Privacy features
Convenience Key
Fingerprint in space bar key
Design and Appearance
Life in plastic, it's fantastic!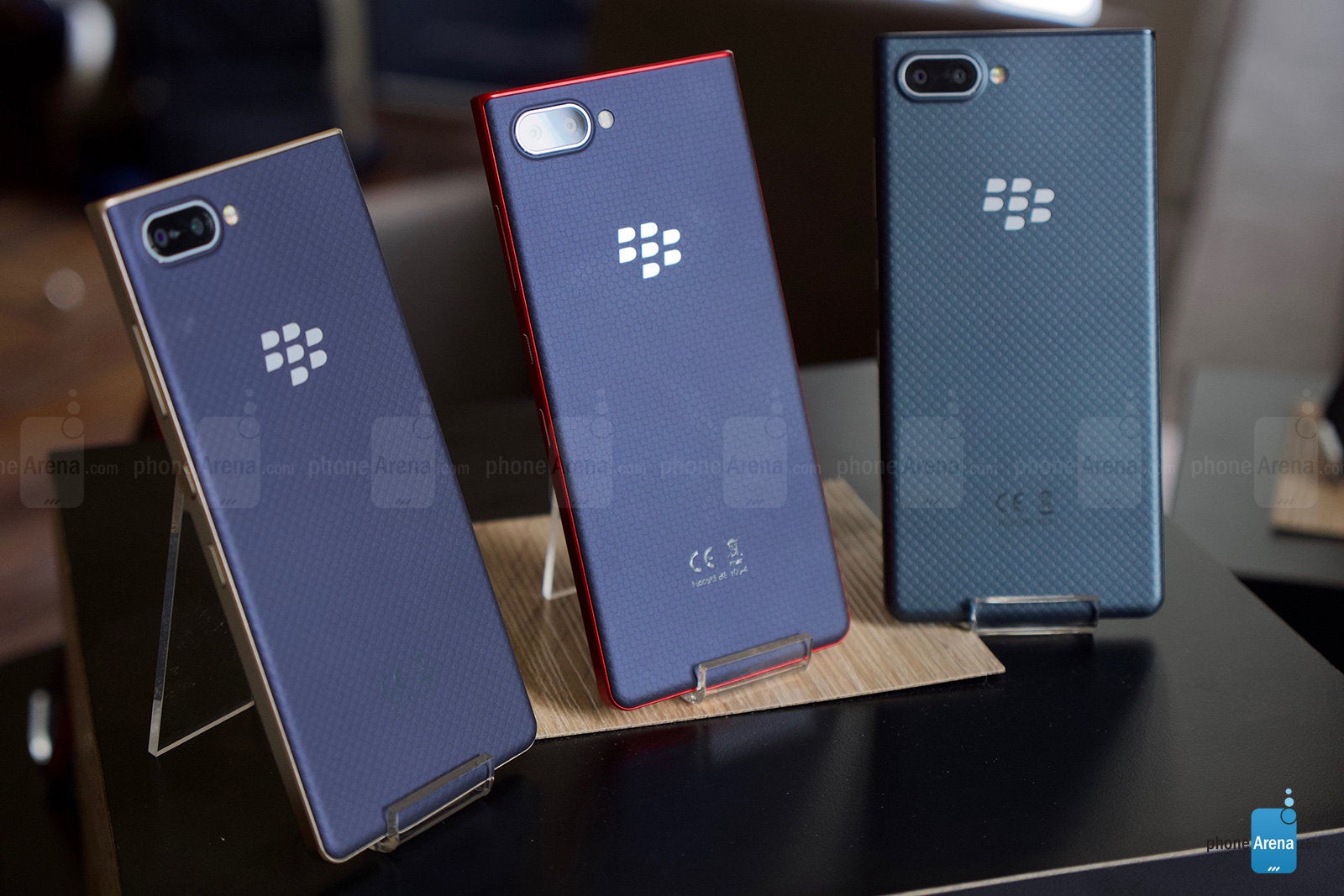 Interestingly, the Key2 LE is made out of plastic, a material that we almost forgot even exists in the past couple of years. Admittedly, the plastic on the Key2 LE has a rubbery, patterned finish on the back and does not feel downright cheap, while on the sides it is styled to look like brushed metal, but the phone still does not quite have the same solid feel as modern metal or glass phones. Using plastic comes with a few practical advantages as well: plastic is lighter and the Key2 LE is noticeably lighter than the regular Key2, and it allows signal to pass through easier, so you get better reception.
While physically, there is very little difference between the sizes of the two (the Key2 LE is lighter and marginally thinner), the new phone feels a bit more approachable with its chamfered edges and more colorful feel.
It's also a bit slower and does not quite have the impressive battery longevity of the Key2. But let's not get ahead of ourselves and start by looking at the...
Processor and Performance
Snapdragon 636 and a good performance in daily tasks
The chip inside the BlackBerry Key2 LE is the Snapdragon 636, a 6xx series chip from Qualcomm's upper mid-range offerings. It's a bit slower than the Snapdragon 660 found in the Key2, but still it did not feel underpowered in our experience with the device. The Snapdragon 636 on the Key2 LE comes with a 4 + 4 big.LITTLE configuration, with four power efficient and four powerful cores. The same 4 + 4 configuration is on the Snapdragon 660 chip on the Key2, but the cores there run at higher clock speeds and you have faster RAM.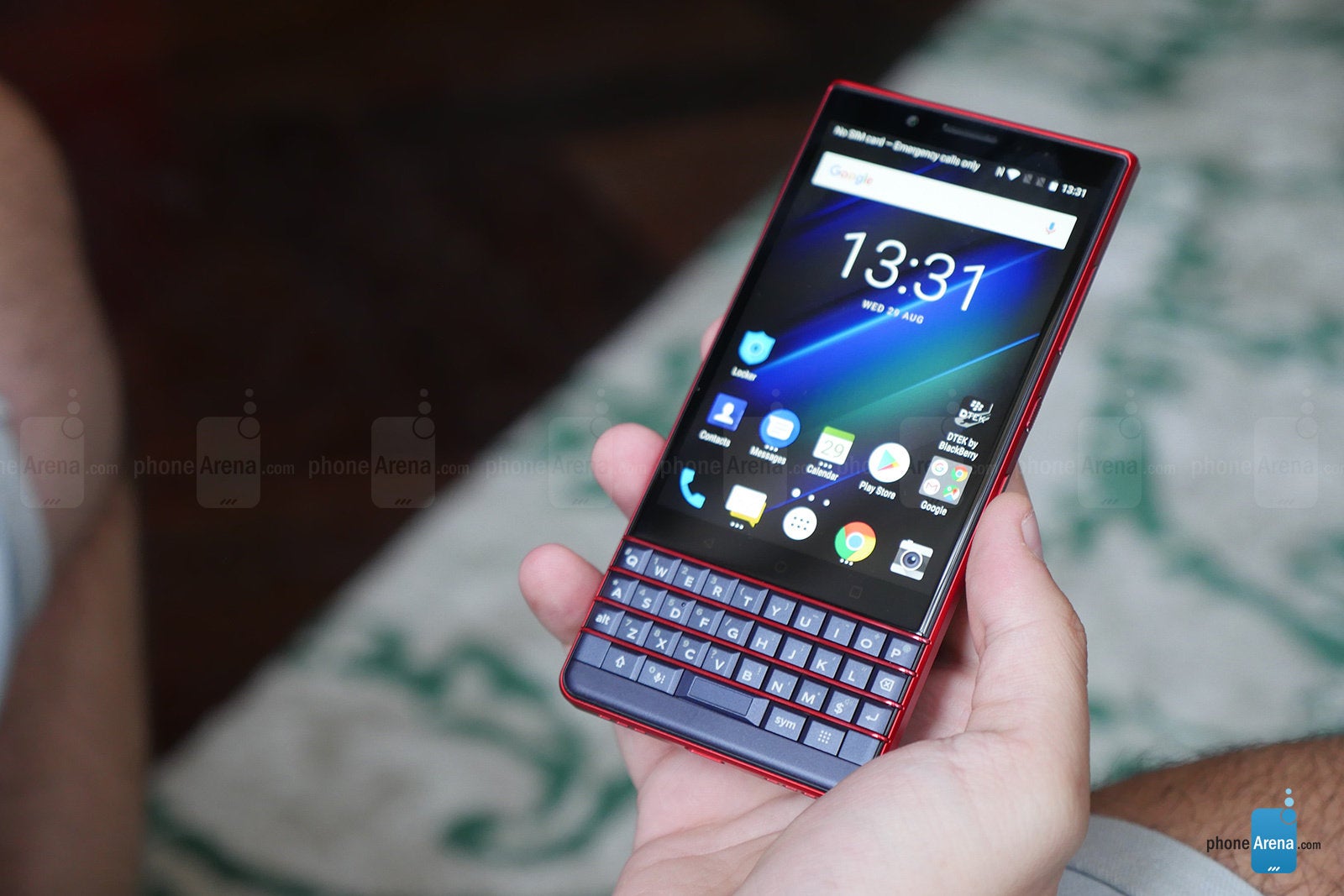 Speaking of RAM, you get 4GB on the Key2 LE, while you have 6GB RAM on the regular Key2.
There are two storage versions available: a 32 gig one and a 64GB model, but we're being told that the US market will be predominantly getting the 64 gig version. Memory expansion via microSD card is supported, which many people will appreciate, and there is a headphone jack on board too.
BlackBerry Essentials: Privacy and Security
Despite its less strict appearance, the Key2 LE still means serious business. BlackBerry was one of the first companies to partner with Google for enterprise security features support with Android 8 Oreo, and with the Key2 LE the company has now embedded important information about the latest security patch and the ability to do a quick security check (via DTEK Security) within easy reach.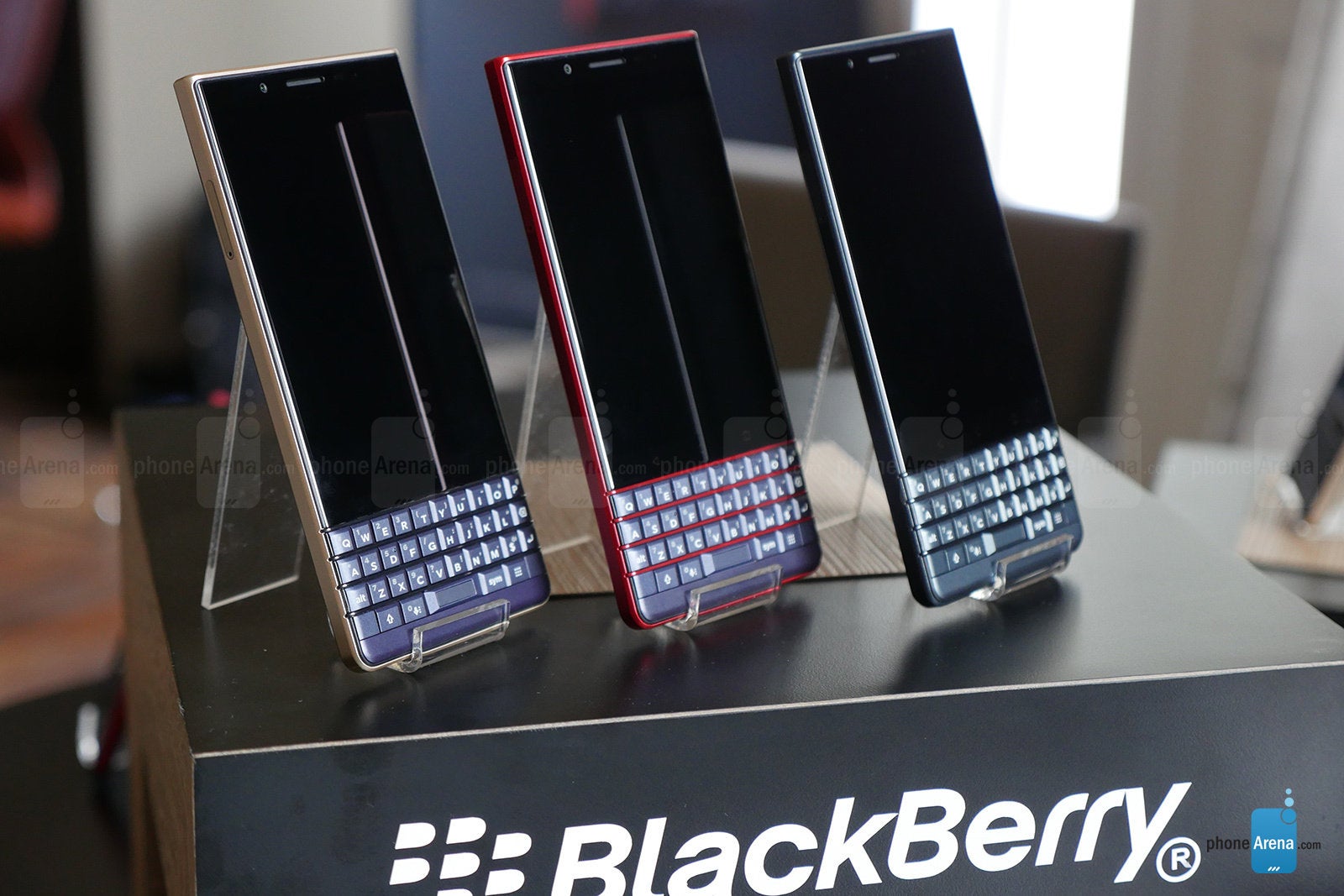 You also have the useful Locker feature that stores content and apps, and makes them private. It also allows you to hide certain apps behind the fingerprint scanner, so nobody else can look at them.
Additionally, you get Dual Apps here, so that you can run two instances of an app, something useful if you are juggling between personal and corporate accounts. At start, it will support apps like Whatsapp, Facebook Messenger, Instagram and a few others.
Apart from all of that, you get a software experience that is very close to pure Android. In these days of Android Pie, quite honestly, it feels a bit outdated visually, but still zippy and functional.
BlackBerry Keyboard and Convenience Key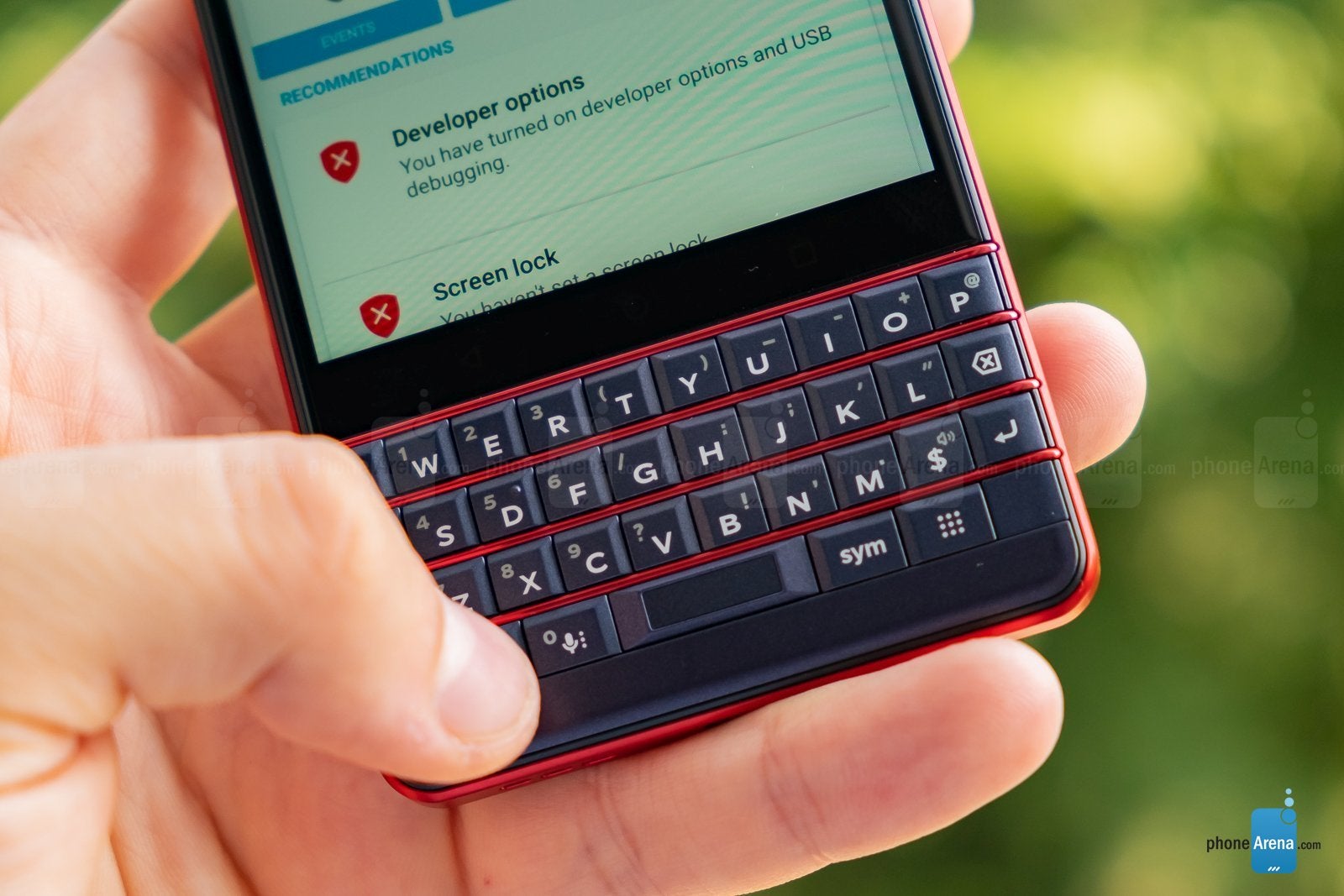 Our favorite features about this new BlackBerry, however, have got to be the extremely useful physical keyboard and something that the company calls a "Convenience Key".
First, yes, the keyboard is still here and it's still right below the display. It's 10% larger than the keyboard on the original Key One, but 10% smaller than the Key2. Still, it feels spacious enough to have us keenly dusting off those quick typing fingers. It's not just typing, though: you can set each and every key to launch a separata app or task, a power user's dream feature. A cool little touch that makes this phone stand out from the rest is that the fingerprint scanner is embedded in the space bar button (in case you were wondering).
On the right side of the phone, right below the textured power key, you find the Convenience Key. It's another button that you can easily reconfigure to launch your favorite app and we found it very useful. By default, it's set to launch the Google Assistant with one click, a double click launches Google Lens, while holding the key starts the Google Assistant in walkie-talkie mode.
Cameras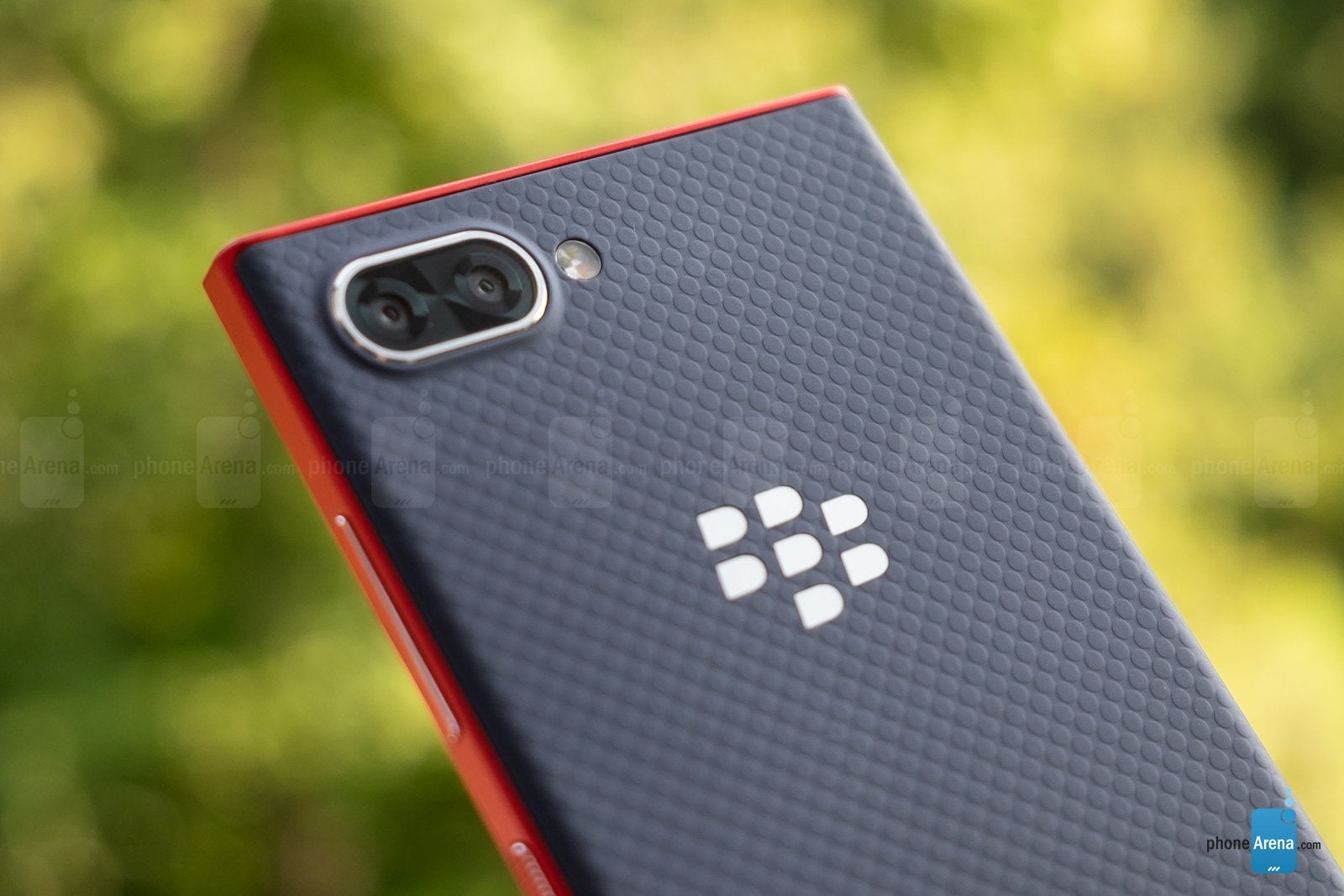 On the back of the BlackBerry Key2 LE you find a dual camera system, but this one is different than the flagship Key2.
Instead of having a secondary telephoto camera, here you get a different setup: a 13-megapixel main shooter and a 5-megapixel secondary one that is there to collect depth information. With this, you can still blur the background and get portrait mode shots, but you don't have the tele camera of the Key2.
We're looking forward to testing this camera more, but at the moment we can't give you much else information about the quality of the pictures and video.
Battery
Another downgrade in the Key2 LE spec sheet is the battery size: you have a 3,000mAh battery, smaller than the 3,500mAh cell on the Key2, but we're still talking about a full-day battery life with the LE. BlackBerry claims that you will get around 22 hours on average, which is plenty for even the heaviest users to get through a busy day.
Interestingly, you have a few new "intelligent" battery features on board: the first one looks at your battery habits and better predicts what apps you may or may not use to maximize battery life, and the second one will actually look for a free spot on your calendar and when it sees that your battery is running low and you have a few upcoming meetings in a couple of hours, it will remind you that this is a perfect time to charge. We could not test this just yet, but we're curious to see how this works. Charging happens via a USB-C port and there is no support for wireless charge.
Price, release date and availability
BlackBerry has been looking forward to having a second, more affordable phone in its portfolio and it now finally has it: the Key2 LE price is set at $450 in the United States, $200 less than the $650 tag on the flagship Key2. This is the price for the model with 64GB of storage, while the 32 gig one will retail for $400.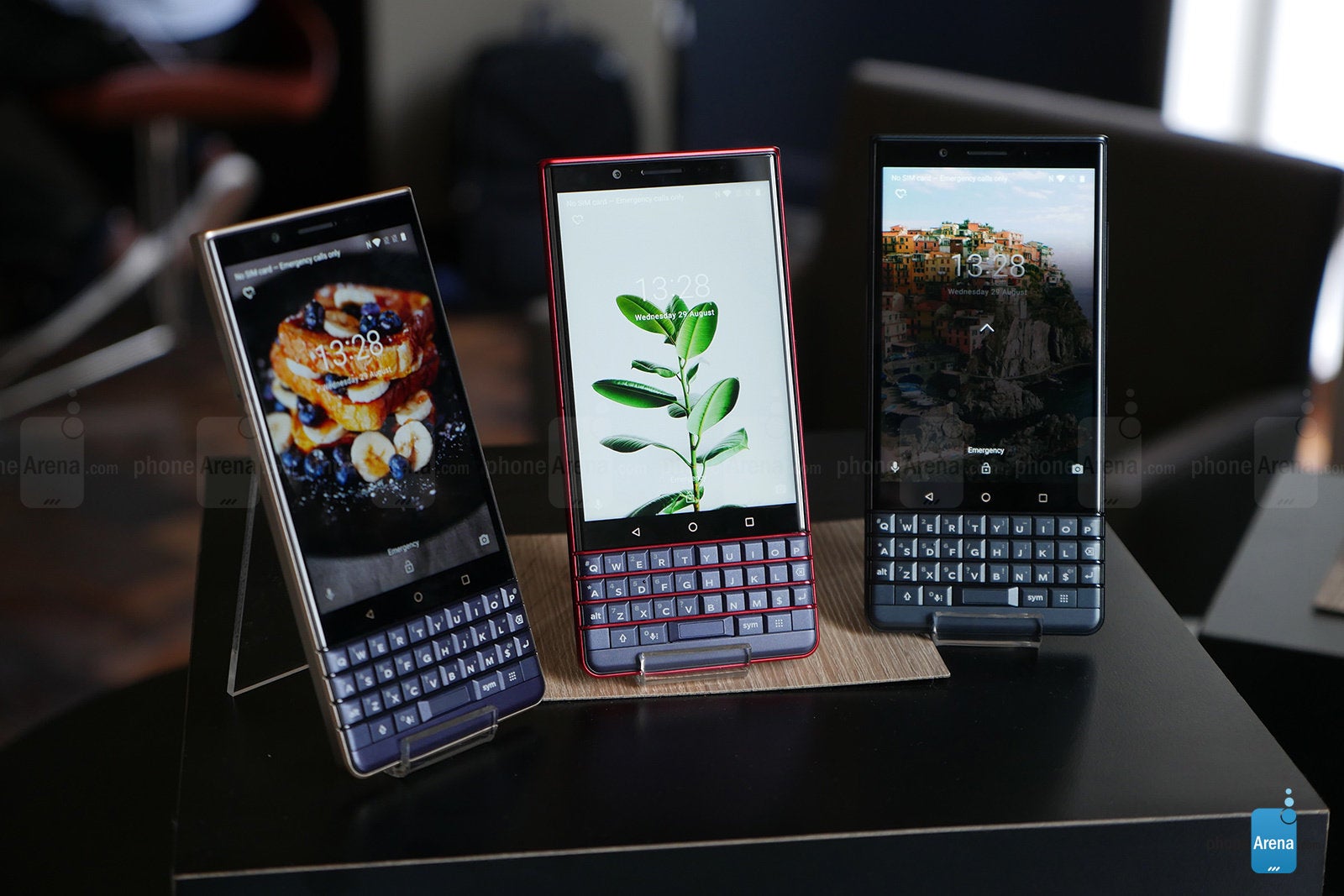 Good news is that BlackBerry is quickly figuring out logistics too: the Key2 LE will be available in most of BlackBerry markets by the end of September, a much faster roll-out than the earlier phones. In the United States, we have learned that BlackBerry is talking to carriers and expects to launch the Key2 LE on some carriers, but there are no specifics just yet.
All in all, the Key2 LE is still unmistakably a BlackBerry, and that's what the company wanted. It has the keyboard (and it seems like it's here to stay), it has the privacy and security, and this time around it has a different design. Will people look at a $450 plastic phone with a keyboard in 2018, though? And how will this BlackBerry compete with the OnePluses, Honors and Xiaomis of this world? That's an open question and one that BlackBerry will soon have to face.