BlackBerry KEY2 LE goes on pre-order at Best Buy for $450
4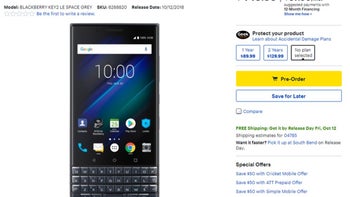 The BlackBerry smartphone market share shrink to negligible numbers in the last couple of years, but there are still die-hard fans who are still buying BlackBerry phones, which is the main reason TCL continues to launch them.
A few days ago
, Amazon started to take BlackBerry KEY2 LE pre-orders, but now another US retailer announced it will offer the new smartphone. Customers can now pre-order the KEY2 LE from Best Buy for $450, but the phone won't ship until October 12.
In case you're wondering, both US retailers will ship the
BlackBerry KEY2 LE
on the same day – October 12. We're not sure how well this new smartphone will sell, but usually, those who want to buy a BlackBerry handset don't have other alternatives.
However, if you're looking for specs and not for a specific brand, the BlackBerry KEY2 LE is as mid-range as it gets. The phone is equipped with a
Qualcomm Snapdragon 636
processor, 4GB RAM, and 64GB expandable storage.
Also, the smartphone sports a 4.5-inch display with 1620 x 1080 pixels resolution and Corning Gorilla Glass 3, as well as dual-camera (13MP+5MP). BlackBerry KEY2 LE ships with Android 8.1 Oreo on board, and a 3,000 mAh. Although it comes unlocked, the smartphone will not work on CDMA networks, so you won't be able to use it on Sprint or Verizon.