BlackBerry says the DTEK60 can go head to head with the iPhone 7 Plus and Google Pixel XL
57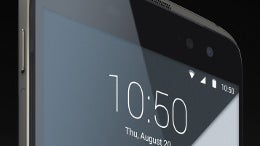 Available in the US
and other markets since earlier this week, the
BlackBerry DTEK60
is a high-end smartphone that costs less than your typical high-end handset from major companies. The DTEK60 is priced at $499 unlocked, and offers quite a lot for that kind of money, including an aluminum and glass body, a 5.5-inch Quad HD screen, a Snapdragon 820 CPU, 4 GB of RAM, and so on.
In a video interview, BlackBerry COO Marty Beard said that the company's "very proud" of the DTEK60, and that the handset can go head to head with other 5.5-inch phones like the
iPhone 7 Plus
and
Google Pixel XL
. In fact, Marty Beard argues that the DTEK60 has some advantages. Besides being about $200 cheaper, the BlackBerry DTEK60 is a bit smaller and thinner than the iPhone 7 Plus and Pixel XL, and, thanks to BlackBerry's software (integrated into Android), it's also an "incredibly secure phone." Moreover, Mr. Beard says the DTEK60 has better battery life than the iPhone 7 Plus, being able to offer up to a day and half of use on a single charge.
We haven't tested the BlackBerry DTEK60 yet, so we can't say if it can indeed stand next to the iPhone 7 Plus and Google Pixel XL. But this does seem to be a worthy alternative to these Apple and Google devices, especially if you want to save a few hundred bucks.
You can check out a detailed specs comparison between the BlackBerry DTEK60, iPhone 7 Plus, and Google Pixel XL below. You could also chime in in the comments section to let us know what you think about this new BlackBerry smartphone - which will certainly
not be the last BlackBerry-branded handset
.
Pressure-sensitive, Oleophobic coating, Scratch-resistant glass, Ambient light sensor, Proximity sensor
Oleophobic coating, Scratch-resistant glass, Ambient light sensor, Proximity sensor
Scratch-resistant glass, Ambient light sensor, Proximity sensor
Apple A10 Fusion APL1W24 (16 nm)
Qualcomm Snapdragon 821 MSM8996 Pro
Qualcomm Snapdragon 820 MSM8996
Quad-core, 2340 MHz, 64-bit
Quad-core, 2150 MHz, Kryo, 64-bit
Quad-core, 2150 MHz, Kryo, 64-bit
PowerVR 7XT GT7600 Plus
Adreno 530
Adreno 530
256GB, not expandable
128GB, not expandable
32GB
iOS (15.x, 14.x, 13.x, 12.x, 11.x, 10.x)
Android (10, 9.0 Pie, 8.1 Oreo, 8.0 Oreo, 7.1 Nougat)
Android (6.0 Marshmallow)
USB Power Delivery
Qualcomm Quick Charge 3.0
32.00 hours
the

average

is 17 h (996 min)
26.00 hours
the

average

is 17 h (996 min)
21.8 days (522 hours)
the

average

is 20 days (472 h)
14.0 days (336 hours)
the

average

is 20 days (472 h)
21.00 hours
the

average

is 19 h (1110 min)
16.0 days (384 hours)
the

average

is 0 days (0 h)
3G: 13 hours; LTE: 13 hours; Wi-Fi: 15 hours
LTE: 14 hours; Wi-Fi: 14 hours
60.00 hours
130.00 hours
88.00 hours
12.00 hours
14.00 hours
17.00 hours
Dual camera
Single camera
Single camera
12 MP (Sapphire crystal lens cover, OIS, PDAF, BSI sensor)
Aperture size: F1.8; Focal length: 28 mm; Sensor size: 1/3"; Pixel size: 1.22 μm
Aperture size: F2.0; Sensor size: 1/2.3"; Pixel size: 1.55 μm
Aperture size: F2.0
12 MP (Telephoto, Sapphire crystal lens cover, Autofocus)
Optical zoom: 2.0x; Aperture size: F2.8; Focal Length: 56 mm; Sensor size: 1/3.6"; Pixel size: 1 μm
3840x2160 (4K UHD) (30 fps), 1920x1080 (Full HD) (120 fps), 1280x720 (HD) (240 fps)
3840x2160 (4K UHD) (30 fps), 1920x1080 (Full HD) (120 fps), 1280x720 (HD) (240 fps)
3840x2160 (4K UHD) (30 fps), 1920x1080 (Full HD), 1280x720 (HD) (120 fps)
OIS, Time-lapse video, Continuous autofocus, Video calling, Video sharing
Video calling, Video sharing
EIS, Video calling, Video sharing
7 MP
8 MP
8 MP
1920x1080 (Full HD)
1920x1080 (Full HD) (30 fps)
1920x1080 (Full HD) (30 fps)
6.23 x 3.07 x 0.29 inches (158.2 x 77.9 x 7.3 mm)
6.09 x 2.98 x 0.34 inches (154.72 x 75.74 x 8.6 mm)
6.06 x 2.97 x 0.28 inches (153.9 x 75.4 x 7 mm)
6.63 oz (188.0 g)
the

average

is 6.5 oz (184 g)
5.93 oz (168.0 g)
the

average

is 6.5 oz (184 g)
5.82 oz (165.0 g)
the

average

is 6.5 oz (184 g)
Back: Aluminum
Back: Aluminum, Glass
Back: Glass; Frame: Glass
Water, Dust; IP67
Splash, Dust; IP53
Fingerprint (touch)
Fingerprint (touch)
Fingerprint (touch)
Notification light
Notification light