BlackBerry 10 full touchscreen device makes another semi-fuzzy appearance
15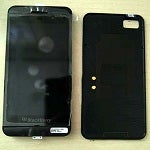 Also referred to as the "L-series" or "London," Mr. Blurry-cam has snapped a couple more pictures to weave their way through the web.
Earlier this month, we were blessed with a single picture from some person's deck (or so it appeared). Now, we have two more pictures of similar quality, one of them showing the battery door with what looks like two NFC contacts, which is similar to other set-ups on other devices with NFC. We can also see how the camera will be situated in the upper corner on the rear of the device.
Other than that, the serial number tagging likely indicates that they are test units, so we do not really know how close to a final hardware design these may be. We might get an update at next week's BlackBerry Jam Americas developer's conference in San Jose, California, but we do not expect significant device details to be outlined there.
Aside from the pictures, the specs and hardware underneath the surface is still up to speculation. Originally, we were expecting to see the new devices and OS 10 compete head-to-head with all the other hot fall and holiday releases, we hope that RIM is putting the extra time they need to good use to ensure a solid first quarter release next year.
Source:
BlackBerryItalia
via
CrackBerry.com