'Bill Gates 2.0' interview focuses on the Microsoft founder after Microsoft, plus a few words about Apple and Jobs
20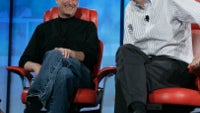 This week's
"60 minutes"
program on CBS featured a detailed interview with Microsoft co-founder Bill Gates, focusing on the new role one of the world's wealthiest people have assumed. Named
"Gates 2.0"
the interview by Charlie Rose stressed on the philanthropic work of the Bill and Melinda Gates Foundation and its ambitious goals to eradicate diseases like polio and malaria affecting billions of people, mostly in underdeveloped nations.
But Gates also touched on Microsoft tablets, adamantly defending his company and the fact that it was the first one that
made tablets long before the iPad
. The Microsoft chairman however admitted that Apple was the first one to truly unleash tablets' marketing potential.
The most interesting part of the interview for techies comes when he elaborates on former rival Steve Jobs. The two have had a rocky relationship in the tech industry, but despite the few harsh words we've heard from Jobs in regards to Gates, the Microsoft executive spoke about the two remaining on friendly grounds. Gates has paid Jobs a visit after he got ill and the topics of their conversations were not just about technology (they did discuss Jobs' dream yacht that he never got to sail on), but also about family.
As a take-out, it's telling to see how two of the industry's giants have overcome their differences and despite the fierce rivalry remained in a friendly disposition to each other. Take a look at the interview right below.
source:
AllThingsD