Big management shake-up at Skype, webOS integration coming soon
5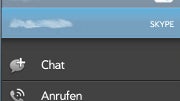 Hot on the heels of Microsoft getting the
green light from FCC to acquire Skype
, sweeping management changes are already underway. Don Albert, Doug Bewsher, Chris Dean, Anne Gillespie, David Gurlé, and Russ Shaw have been dismissed from the company, or expressed intentions to leave.
While most of them are HR and marketing managers, Russ Shaw has been the one in charge of the
carrier and cell phone makers deals
, like the ones with Verizon, O2, or Nokia. He is the man credited with Skype's proliferation on smartphones. Some of these management changes are being attributed to the usual restructuring upon acquisition in order to avoid duplicating positions, but it might also be a hint about Microsoft's intentions to
wall-garden Skype from the competition
in some ways.
Other than that is seems business as usual for Skype. Recently a few screenshots appeared that demostrate what Skype integration will look like, when it comes to webOS, but this process has been set in motion by the previous management, and Russ Shaw in particular, so Microsoft will probably let these play out anyway. We'll see what will happen with the future iterations of Skype.
Recommended Stories