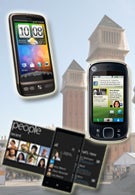 For a few short days Barcelona became capital of the cell phone world and source of most interesting pieces of information and news on various mobile devices. Mobile World Congress provided us with the thrilling opportunity to take a closer look at handsets and services that would make headlines further into 2010. We reported live and told you about virtually everything that managed to attract out attention, but it´s time we tied up our coverage and summarized the most important things we saw there...
Windows Phone 7 Series
. We knew we would see the new OS there, but we were not prepared for the number and magnitude of innovations the Redmond giant had integrated into the new iteration. Windows Phone 7 Series severs all ties with its predecessors and introduces novelty features, like the so-called software hubs that act as multi-functional applications. We have to point out that any program developed for Windows Mobile 6.x.x. will be completely incompatible with the new operating system. There is more than enough time until the official market launch of the first cell phones based on it, but we will certainly keep a close eye on any developments and news about it, since it looks entirely different from all other operating systems available today. Please, read our hands-on with Windows Phone 7 Series via the link
here
.
MWC 2010 confirmed our conviction that the popularity of smartphones is not just rising, but sky-rocketing. Quite a few and brand new operating systems that will power next generation devices got showcased at the event and we also saw
Samsung
´s first handset based on the manufacturer´s new
bada platform
. The
Samsung Wave S8500
ended up overshadowed by all the buzz surrounding Windows Phone 7 Series, but this does not mean it is unimpressive. It is equipped with awesome Super AMOLED display and powerful hardware and we do like them both. As for the operating system itself... well, it doesn´t offer anything we haven´t seen before and utilizes latest edition TouchWiz interface to make the device more familiar and user-friendly for ordinary customers. Still, bada should be able to deliver proper functionality with more complex software (provided it gets developed, of course) that will take advantage and utilize the full potential of the platform. The other truly interesting handset of the manufacturer that we bumped into was the Samsung Beam
I8520
(Halo) and it would come with pretty acceptable overall size, given it actually integrates a projector. Note that the device will be the first of its kind to appear across Europe and it will come with really impressive 3.7-inch Super AMOLED display, 8-megapixel camera and HD video playback capabilities. Moreover, the handset will be based on Android 2.1, which we guess is great news for all fans of the famous green robot.
It seems that Android will prove to be the life-buoy for all companies that have not been doing great lately.
Motorola
has once again managed to climb up to the top, although the manufacturer failed to put up a great show at MWC and introduced just one handset, the
QUENCH
.
Sony Ericsson
appears to be following in the footsteps of the American giant and the Xperia X10 will soon (this March) cross swords with its Android rivals in an attempt to win over high-tech fans. We must add that we find the compact versions of the handset, the
Xperia X10 mini and X10 mini pro
quite intriguing as well.
We almost forgot about
HTC
! The Taiwanese company didn´t fail to amaze us with the extremely high build quality of its smartphones and the
HTC Desire and HTC Legend
gripped our attention on the spot. The first one comes with pretty similar specifications as the Nexus One, but runs the manufacturer´s Sense interface. The second is actually an improved iteration of the HTC Hero, equipped with AMOLED screen and aluminium body made from a single metal ingot. The
HTC HD mini
is a miniature version of the
HTC HD2
, but runs Windows Mobile 6.5.3 and sports certain interface novelties. Its overall appearance is unique as well, thanks to the screws that are left undisguised for everyone to see as ornamental parts of the design.
MeeGo
is a brand new platform formed by the merge of Intel´s Moblin and Nokia´s Maemo. It looks quite promising indeed and it seems we will finally see it when the
LG GW990
rolls out, plus the device is extremely impressive itself (its 4.8-inch screen is certainly not something to laugh at).
By the way, except for said cell phone, there was nothing really thrilling about the handsets that
LG
showcased at the event. Most of them were announced well before the exhibition, which kind of ruined the thrill. As promised, Nokia did not introduce a single device at MWC and remained focused on promoting certain services. We bet both manufacturers have an ace or two up their sleeves and we cannot wait to find out more about them.
In a nutshell, this is what we consider most interesting of all we saw at
MWC 2010
. We have to say we had a truly intense couple of days, but what comes next is a brief period of calm before the storm, since we don´t really think it will be long before the devices introduced at Barcelona start rolling out. Of course, you will meet them in our reviews, so stay tuned. Please, share your impressions in the comments below and tell us about the handset that impressed you most. What cell phone are you most eager to get your hands on?