Best leather cases for Samsung Galaxy S9 and S9+
2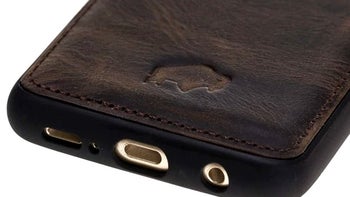 Say what you will about the convenience of clear silicon cases, they rarely give your phone the looks and feel in the hand that a stylish leather wrapper would. Leather material is the Cadillac of the casing arts, and with a good reason - it ages gracefully, looks premium, and leaves a natural, satisfying feeling in the palm.
Needless to say, if you have a high-end phone these days, it is most likely crafted out of glass, and, tucking those polished beach bodies into a yellow-ing silicone case could feel like a blasphemy. You have to, though, as glass handsets are pretty fragile and often slippery. Since leather is a great compromise between protection and aesthetics, we are rounding up a few of the best cowhide wrappers for precious glass-y
Galaxy S9
and
S9+
.
Mujjo is no stranger to quality mobile accessories, and has for example been making upscale touchscreen-friendly gloves for years already, specializing so well that it offers one of the greatest bangs for the buck in the category. That expertise transfers to the Mujjo cases for popular handsets like the iPhone or Samsung's Galaxy S line, and now it is a turn of the S9 and S9+ to receive their first full-grain leather wrappers.
Lined with Japanese microfiber to prevent abrasions, the cases fit like a glove, and offer raised 1mm lip all around the phone for added protection. Besides the precise cutouts for all the ports, openings, sensors and buttons, Mujjo's leather cases maintain the classy look by eschewing plastic rings for, say, the camera and finger scanner openings, but rather developed chamfered leather edges that slope seamlessly inwards. All edges are molded with durable polycarb to withstand the wear and tear where it would otherwise leave the most impact.
Now, off to the case material itself. Mujjo uses vegetable-tanned leather which is waxed for added endurance, and the full-grain look leaves a remarkable impression, both in the eye of the beholder, and in the palm. Mujjo promises that it "wears in with every use and acquires a beautiful patina and polish over time," and, judging from its similar cases for the iPhone, it has a point. The full-grain leather cases for your Galaxy S9 are $49.90, while the larger S9+ can get dressed in subtle luxury for $54.90, with worldwide shipping, or via authorized resellers. Hit the source link if those pretty wrappers that come in Black, Tan or "bold Olive," have piqued your interest.
A more minimalistic shell, which has cutouts that grant you access to the phone's own buttons and generally lets you feel "more of the phone". The case itself has a very cool, unique look and comes in three different colors.
Striking a balance between quality of leather and price, we have the Qialino. It's made of genuine leather and certainly rocks the style worthy of your premium
Galaxy S9
or S9+. It also fits around the phone snug and has a single card slot, making it not-that-thick for a wallet case.
Made with full grain Turkish leather, this Burkley snap-on wrapper case wraps around a very light and durable polycarbonate cover with microfiber lining, for the best of both worlds. Needless to say, since it's natural leather, Burkley warns that the color and patina may change with time and usage, but that's the beauty of leather cases, and this one comes in several classy colors, including models with snap-on card holders, if you are so inclined.