Best Buy stores will have at least 45 iPhone 4 handsets per store on launch day?
This article contains unofficial information.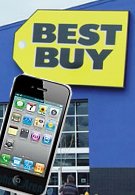 Another year, another upcoming iPhone launch, and we'd imagine that Best Buy will be doing its usual thing as there is no doubt that the big box retailer will be selling the iPhone 4 on launch day. Apple and Best Buy clearly have a close relationship as we've witness the two giants collaborate in the past for the launches of the iPhone 3G, iPhone 3GS, and iPad. Now there is word that each store across the country, no matter what size, will have at least 45 iPhone 4 handsets ready for sale to the masses. The breakdown is rumored to go something like this – there will be at least 30 units for the 32GB version and 15 for the 16GB version. Employees will have to look elsewhere if they want to purchase a handset from day one as it looks like they'll be banned from purchasing it – but we'd imagine that a family member could always help them out in situations like this. Last year the retailer offered pre-orders for the iPhone 3GS, but it's not known right now if they plan on doing the same for this launch. It'd definitely be nice, but since this is the first major overhaul for the smartphone in terms of hardware, we'd imagine that there would be a larger amount of people looking to fetch the handset on day one.
Apple iPhone 4 Specifications
source:
Engadget