Best Buy offering $50 credit on any AT&T BlackBerry with activation at select locations
This article contains unofficial information.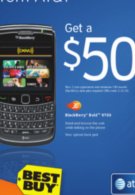 Looking around for some great deals on BlackBerry smartphones can sometimes prove to be draining – especially when you're trying to shop around for decent prices. One of our tipsters sent us a pretty good deal in you're in the market to buy an AT&T BlackBerry phone. If you happen to live near the major Philadelphia area, you might want to check out your local Best Buy stores to take advantage of a great deal that's going on. As opposed to requiring you to send out for a mail-in-rebate, they provide the discounts up front so you're saving money at the time of purchase. If you buy any BlackBerry smartphone for AT&T at any of the participating Best Buy stores, they'll put through a $50 credit to your account after 30 days of activation – just as long as the required $30 data plan is on the account for the same period. Unfortunately this deal only applies to new activations; not upgrades. On top of providing some of the great BlackBerry handsets like the Bold 9700, you can score some extra cash with the $50 credit and get those handset discounts at the time of purchase. Let's just hope that the giant big box retailer starts offering this deal nationwide to all of its stores.
Thanks to our tipster!