Best Buy denies that it will present an Apple iPad to all of its sales personnel
1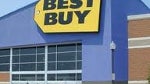 A couple of days ago, we
reported
that Best Buy was going to present each member of its sales crew with an Apple iPad. As exciting as that news might be for those working the floor of the big box retailer, a spokesman for Best Buy has denied that the story is true. According to the Wall Street Journal, the tech retail giant is considering buying a limited amount of a device for some of its sales personnel. Which device will be bought remains unknown. The Best Buy spokesman said, "While we plan in the future to supply each store a limited number of handheld devices to use as sales tools when assisting the consumer, we have not many (sic) any final decision at this time."
Best Buy is currently trying out a "Connected Store" format similar to the Apple Store where potential customers can mosey on in to the store and have a hands-on experience with some of Apple's most demanded products. Currently, Best Buy is testing out the Apple iPad, the Samsung Galaxy Tab and the Motorola XOOM in this format. Any one of those three tablets could be the device that eventually is handed out to the stores sales personnel in limited numbers.
The idea behind offering its sales staff a tablet is to provide a unique point of sale application for use in its 1,100 stores in the U.S. As the Best Buy spokesman said, "We continue to evaluate all handheld devices and platforms, looing (sic) for the best solution to aid our employees on the floor."
source:
WSJ