Battery for days: Oukitel announces the chunky but stylish K10000 Pro
7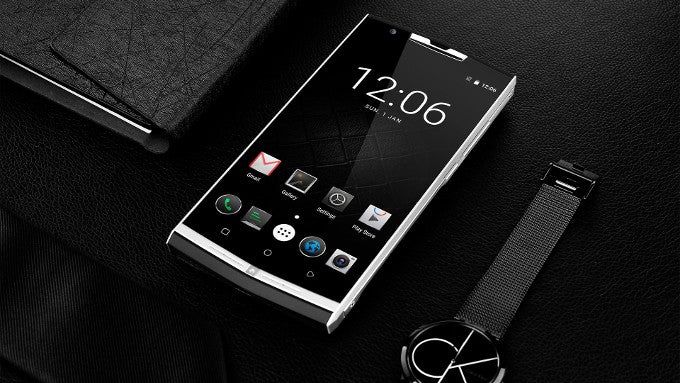 This story is sponsored by Oukitel. PhoneArena's opinions in this article have not been affected in any way!

Oukitel has just announced its brand-new entry to the K series — the K10000 Pro. The series is comprised of midrange handsets with massive batteries and the new member does not deviate from that formula. In fact, it's a bit of a chunky phone, but it sports the biggest juice box in an Oukitel K phone thus far — an impressive 10,100 mAh cell.
The smartphone may be thick, but that doesn't mean it has to be ugly. Oukitel employed a mix of genuine leather back padding and a stainless steel frame to give the K10000 Pro a stylish look and premium feel. The phone's camera is surrounded by a huge metal module, which also houses the fingerprint scanner. All in all, we don't know how sturdy the K10000 Pro is, but its looks definitely inspire a sense of grit and durability.
The front has a 5.5-inch, 1080 x 1920 display with capacitive navigation keys embedded below it. The phone is powered by a MediaTek MT6750T — an entry-level octa-core SoC, clocked at 1.5 GHz. Despite its processor being on the lower end, we still have 3 GB of LPDDR3 RAM and 32 GB of internal storage. As for cameras, the K10000 Pro sports a 13 MP sensor for the main snapper and an 5 MP selfie cam.
The software on board is Android 7 Nougat out of the box. It appears to be slightly re-skinned, but mostly close to the stock Android experience.
As previously mentioned, the 10,000 mAh cell is the phone's centerpiece. Oukitel has confirmed that it will ship the device bundled with a fast-charging wall plug, which will be more powerful than the
K6000 Plus
' 12V / 2A charger. However, it has not revealed the exact numbers as a part of a game that it wants to play with its fans.
The Oukitel K10000 Pro is going to retail for $219.99 when it launches in early June. However, it's currently in the pre-sale stage and there are a few ways you can get it for less.
The easiest one is just to pre-register for the phone's sale. This will give you a $40 voucher to go towards your K10000 Pro purchase and an additional gift basket with $30 worth of goodies for the phone. Registering will also enter your name for an everyday raffle — until the 31st of May, each day, Oukitel will pull 10 names that will have the chance to buy the K10000 Pro at half price. There's also the draft, which may net you a 50% discount if you share the K10000 Pro on your social media and get tons of likes and shares. There's a third contest to enter as well — if you answer 2 questions ("How long does the K10000 Pro take to charge?";"How many iPhone 7 Plus units can a K10000 Pro's cell charge up?"), you will get a chance to win one of 20 free Oukitel A8 — a universal Bluetooth remote, which lets you control your camera, take calls, control your music, and get warnings when you're leaving your handset behind. All the games can be found at the manufacturer's official web page, which is linked below.
Recommended Stories