Barclays analyst sees soft demand for the Apple iPhone during the remainder of this year
21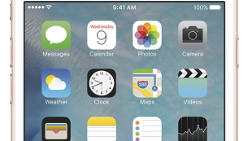 Barclays analyst Mark Moskowitz expects demand for the Apple iPhone to remain soft during the rest of 2016. For the previous quarter that ended in June, Moskowitz expects Apple to have shipped 39.9 million iPhone units. That is down 1 million handsets from his previous estimate of 40.9 million. He sees more deterioration in the current quarter that ends in September. During that three month period, he expects that Apple will ship 43.9 million iPhones, down from an earlier forecast of 46.6 million.
For all of 2016, the analyst now expects Apple to ship 203.7 million phones, lower than his previous call for Apple to deliver 212.1 million units. That would indicate an annual decline of 12% in iPhone shipments this year. But Moskowitz sees a 10% rebound on the way, with Apple shipping 224.4 million iPhones next year. That is lower than his original forecast which estimated that Apple would ship 233.8 million iPhone units in 2017.
Apple will report the results of its fiscal third quarter on July 26th. For the fiscal second quarter, Apple announced that it
had lower year-over-year iPhone sales for the first time in history
. The analyst, while maintaining an "overweight" rating on Apple's shares, lowered his target from $121 to $115 on the stock. Apple is currently trading at $98.90.
source:
AppleInsider